Chinese themed games are all the rage. And it's pretty clear why that's the case. Take Macau, for example. The gambling paradise for rich gamblers from Asia is widely known as the Las Vegas of the east. But that doesn't really do Macau justice.
In 2014, at the height of Macau's success, the gambling mecca took in revenue worth 7 times that of Las Vegas. You read that right. Macau's gambling industry was 7 times bigger than Las Vegas's industry. It's levelled off a bit with revenues declining in Macau over the last year or so. But Macau is still a big player—even bigger than Sin City, even though there are fewer casinos. It all has to do with the super high rollers that flock from various parts of Asia in hopes of landing a big score.
So it should come as no surprise that the world's biggest casinos, online and off, are stocking their casino floors with Chinese-themed games.
At CoolCat Casino, we have a lot of them and our Game of the Month happens to be one that fans of Chinese-themed games will absolutely love.
It's called Zhanshi, and it's an ancient Chinese-themed online slot feature a top award of 30,000x your bet per line. It also comes packed with two big feature games where you can earn 25 free games initially. And it has a large jackpot that resets at $1,000. That reset amount is the lowest it'll go. After it hits, it drops back to $1,000 and then keeps climbing.
What Zhanshi is all about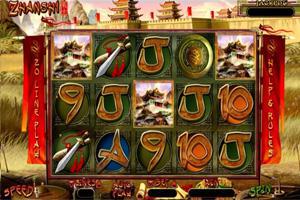 Zhanshi is inspired by all things related to ancient Chinese warriors, but you don't need fancy warrior skills to play this one. It's easy to get started and all you need is a CoolCat Casino account and a computer or mobile device. Once you have an account, download the software on your PC, use Instant Play through your browser on a Mac or PC, or head to CoolCat-Casino.com on your iPhone, iPad, Android phone or Android tablet to play.
When you're ready to play, just fire up Zhanshi to get started. You'll see a Lines button and a Bet button, both of which have arrows. Use the up and down arrows to adjust your bet amount and the number of lines you want to play. You can play between 1 line and all 20 lines, and you can bet between $0.01 per line and $5 per line.
Just like a real slot machine where your bet isn't locked in until you hit Spin, the same goes for the Zhanshi online slots game. You can keep adjusting your bet up and down and playing with the number of lines you want to play until you're totally happy with the bet per spin amount. Only when you hit Spin will the final bet per spin be locked in. Keep in mind that using the up and down arrows next to the Spin button modifies your bet per line, not your bet per spin. That amount is determined by multiplying your bet per line by the number of lines in play.
For example, if you bet $1 per line and play all 20 lines, that's a $20 wager on a single spin, not a $1 wager. So, be sure to check out the value on the screen that shows you how much you're betting per spin. If you're betting too much, simply adjust the number your bet per line, or if need be, adjust the number of lines you want to play.
How to get rewarding in Zhanshi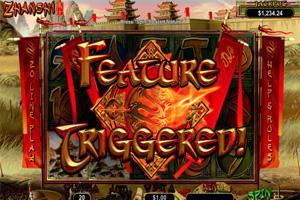 When the reels come to a stop, you'll get paid out based on how many symbols you lined up and the value of those symbols. Some symbols, however, are worth more than others. For example, there are a few very important symbols to be mindful of.
The Warrior Symbol: It's the substitute symbol in this great online slots game. You can think of a substitute symbol as a Wild symbol, similar to a Joker in Video Poker. When it shows up, it can substitute for a missing symbol to help you nab that winning combination.
The Temple Symbol: This one is the scatter symbol, so if you're familiar with scatters in other online slots games, you're all set. If not, here's a quick tutorial. Scatters generally pay out in any direction, meaning you don't need to connect them from left to right. But in Zhanshi, scatters are even better. If you hit three of them, you'll get to play one of two free games where 10 free spins are all yours.
Play Zhanshi for free, right here at CoolCat Casino
The great thing about Zhanshi is that you can play it for free at CoolCat Casino right now. With your free account, head over to CoolCat Casino and choose the free games mode to play with pretend money. You'll get a fake bankroll to go to town with. You can win big and even hit the jackpot, but keep in mind that any money you win isn't actually real. You can continue to bet your winnings at the free slots, but you can't withdraw it and spend it on anything. It's just for fun.
Our free slots are great if you want to try out new games without having to put real money on the line. Even if you already have a real money balance, you can still opt to play free games (this is a great option if you're trying out a new game or simply want to continue to have fun while conserving your bankroll.
If your real money balance is at $0, you can fill it up with instantly by making a deposit. We accept major credit cards, person to person transfers, bank wires, and more. Remember, it doesn't take a lot to deposit, so feel free to toss in a small amount if you want to test the waters. Plus, don't forget to take advantage of our deposit bonus to boost your bankroll even higher.