When the weather gets a little cooler, it just feels right to play a game with a winter theme. That's why October's game of the month is the one, the only, Penguin Power!
Penguin Power is an exciting slot offering players up to 20 diverse paylines with distinct patterns that only a penguin could imagine. You may get chills when you see the cute little penguins scurrying across your screen on the way to big time combinations and exciting wins. While your winnings may be covered in snow, the rewards in this game are hot enough to melt it away in a matter of moments. Beautiful graphics and exciting gameplay combine to make this game one of the best around, but don't take our word for it. Join your favorite Antarctic birds in this exhilarating slot, and we're guessing the cool weather will be the last thing on your mind!
Getting Started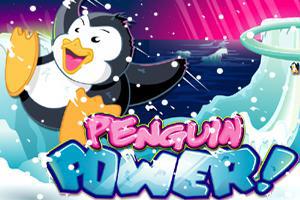 Any seasoned slot fan will be interested in the game's features and symbols, so let's do a quick crash course. The reels are filled with a cute and cuddly combination of penguins, seals, fish, eggs, igloos and baby penguins, and they can all be used to turn your wagers into wins. However, baby penguins and igloos are particularly interesting.
The baby penguin is Penguin Power's wild symbol, which means that it can complete your winning combinations. If that's not enough, you'll be psyched to find out that combinations featuring the baby penguin pay out double the winnings! Yeah, that's cool.
The igloo is the scatter symbol in Penguin Power, which means that it pays in any direction. If you're able to land five igloos on any reel during a spin, you'll be rewarded with a payout of 200 times your stakes. If you see three igloos, you'll win up to 25 free spins in the game. Penguin Power features so many great ways to win!
Bonus Rounds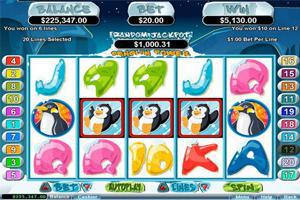 Remember those free games we were talking about earlier? They're actually even better than simple free spins. Just collect three or more igloos on a spin, and you'll trigger the free spin feature. Before the spins begin, extra igloos and baby penguins will be added to the reels in order to maximize your chances of winning. If you're able to land a baby penguin on the first or fifth reels on the same line as an igloo, you could win as much as 100 times your triggering bet, as well as up to 10 additional free games. That should warm you up!
Autumn is here again, which means that winter is just around the corner. Get in the mood for colder weather by visiting a few friendly penguins at CoolCat Casino. With great prizes and a ton of free spins waiting to be claimed, it's no wonder that Penguin Power has established itself as one of the most popular casino games ever created. Take a slide along the ice toward big winnings, and take your gaming experience to new heights with Penguin Power!