All right, the holidays are now officially over. We released a lot of cool games late last year as part of our strategy to give players more surprises every month. One of the them was our very first 3d Slot Game: Orc vs. Elf!
Orc vs Elf is our favorite game this month. If you love the movie The Hobbit, which was actually released around the same time, we're pretty sure this is going to be your new favorite online slots game.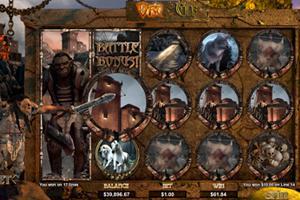 Before we tell you what the game is about, we want to preface this by mentioning that this game is a big deal for CoolCat Casino. Why? Because it's our first foray into 3D casino entertainment. No, you don't need 3D glasses to enjoy Orc vs. Elf. But we designed the game with our software partner to feel 3D dimensional by using crazy-amazing widescreen technology and animation angles that really make things look incredible.
Now about the game. Orc vs. Elf is unlike anything you've ever seen before. The 5-reel, 25-payline slot machine features 14 different feature games. That's not a typo. There are literally 14 different games, spread out over two paths.
In Orc vs Elf, you can opt to take the Trail to Orcholme or the Road to Elveros. Each path comes with seven different bonus feature games. Your goal along the way is to collect Victory Points by pitting the Orc against the Elf and betting on who will be victorious.
The graphics in this game are incredible and you'll definitely feel like you've journeyed all the way to Middle Earth to play. In fact, you'll feel like you've been dropped into a J.R.R. Tolkien novel, like The Hobbit and The Lord of the Rings. The music, the graphics, the game play—it all adds up to one of the most surreal slots experiences we've ever enjoyed.
Now, if you're not a fan of all things middle earth, don't worry. We still think you'll love this one. Orc vs Elf is arguably one of our most rewarding games yet, so if you're all about winning, definitely give this game a try.
And remember, Orc vs Elf is available to play for free when you create your free CoolCat Casino account. So really, you have no excuse not to try our latest game. Happy New Year, everyone!