How was your Cinco de Mayo celebration? It's a huge deal in my family (My mother is half Mexican and her family still lives close by). Every year, we all get together on May 5th to celebrate the holiday. We're known to really spark up the neighborhood: We include piñatas, margaritas, sombreros, and everything else you can think of.
Last year, we hired a mariachi band to play during our Cinco de Mayo party. And we always serve Mexican food (OK, it's usually Tex-Mex, but still delicious).
But this year, I mixed things up by adding a new game to the mix. I set up a few laptops and fired up CoolCat Casino's game of the month. I'm talking about Jumping beans, a fun online slots game that was just perfect for Cinco de Mayo.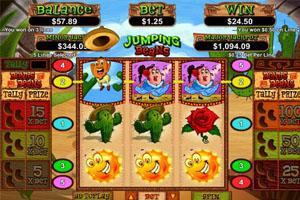 The 3-reel slot machine features a colorful cast of characters read to jump into action to help you win big prizes. There's Mr. Bean, Mrs. Bean, and Bandido bean. They bounce around the screen and come together to help you land big payouts.
Jumping Beans is packed with two big jackpots and a top award of 1,000x your bet per line. There's also a piping hot 100x bonus payout. But what surprised me most about this game is the Auto-Nudge feature, something you don't see in a ton of casino games.
With Auto-Nudge, a symbol can actually bounce outside of a payline. But Auto-Nudge works hard to push it back in, ultimately helping you complete a winning combination. It's a pretty cool feature that'll change the way look at casino games.
A great thing about Jumping Beans is that the Bean family really works hard to give you free games and big payouts. If you land on one Mr. Bean, you'll earn double payouts. Hitting three or more Mrs. Beans after an Auto-Nudge takes place gets you 10 free games.
Sound great? Here's the best part. You don't have to wait until the next Cinco de Mayo to play. Jumping Beans is actually available 24/7 at CoolCat Casino, whenever you're in the mood. So create your free account and hop to the big wins that are waiting for you. It's way more rewarding than a piñata full of candy, that's for sure (and much easier to hit).