Chinese New Year is only a month away and we're already celebrating ours! While it will usher in the Year of the Sheep, today we're celebrating the Year of the Ox. The Game of the Month is officially Happy Golden Ox of Happiness, an online slots game that we know you'll love.
If you think the name is a bit superfluous (what's with the repetition of the happy theme?) think again. There's good reason why it's not called Somewhat Satisfied Golden Ox of Mediocrity.
This game is designed to make you happy. With so many rewarding symbols, you'll have good reason to smile from ear to ear – and keep smiling no matter what time of year it is and which animal takes the spotlight.
The Year of the Ox symbol gets you eight free games when you land on three of them during a normal game. And that's just the start of what's on offer.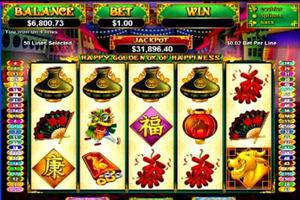 In the spirit of Chinese luck, you'll find a variety of rewarding symbols in this game. There are three good luck Fu symbols. Landing on two matching symbols gets your bet per line increased to 8. Get three and you'll see it increased to 18. Four and Five of a kind pumps it up to 188 and 2888 respectively.
There are also dancing lion, tomato light, and cracker symbols. They're known to represent courage, energy, and wisdom in the Chinese culture. They also lead to big payouts. We're talking 8, 88, and 888x your bet per line.
We're not done. The hand fan, good luck coins, jade numeral eight, and lucky pot symbols also lead to riches worth up to 188x your bet per line.
Excited? There's more. Happy Golden Ox of Happiness (I can't get over the name) also includes an unbelievably rewarding jackpot feature. Just line up one Happy Ox symbol on each real and you've popped the big one.
There are loads of symbols in this game, but don't worry. You've got 50 paylines and 5 reels to work with, so there's lots of opportunity to match up winning combos and come out with a win.
If you want to give it a try, create a free CoolCat Casino account now. Remember, you can play free casino games without having to make a single deposit. So get started and see why celebrating Chinese New Year every day is so much fun – and rewarding.