This month might be all about March Madness, but we don't have basketball on our minds. No, we're still in football mode, already thinking about preseason NFL play, set to unfold this August. It is after all, just 5 months away. (This is our excuse, just because we want people to play this game so much… just being honest here.)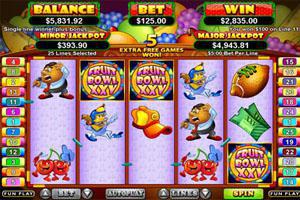 But you don't have to wait until then to see the pigskin fly. We've got a juicy game waiting for you at CoolCat Casino. It's Fruit Bowl XXV, an online slots game that you're going to absolutely love. And it's our Game of the Month here at CoolCat Casino.
Think football meets fruit and you've got Fruit Bowl. It's apples vs. bananas, blueberries vs. kiwis, strawberries vs. grapes, and peaches vs. pineapple in the fruit-ball playoffs leading up to the biggest Sunday in fruit-sport history.
If you love football, you'll love Fruit Bowl XXV. And if you don't love football but you love fruit, you'll be all over this online slots game just as much – especially with the top award of 50,000x your bet per line.
The best part about Fruit Bowl XXV is the bonus round. If you're used to just a run-of-the-mill free games round where you get to spin for free, prepare to do a touchdown dance because this one takes things to the next level.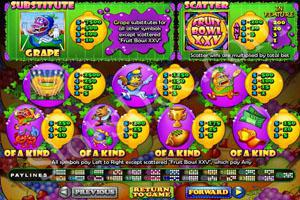 When you hit three or more Fruit Bowl XXV symbols on any reels, you'll get to play the Fruit Bowl Feature. A football field will pop up onto the screen and your job is to get by four opponents and score a TD. Each time you beat one of the four opponents, you'll earn five free bonus games. If you get tackled, though, the feature game is over.
This online slots game also includes a Win-Win feature game. Basically, you'll win big, even if you don't (we're willing to bet the Seattle Seahawks would have loved that this past Super Bowl). If you don't win anything at all, you'll win 250x your original bet. If you win between 2x and 5x your bet, you'll win a bonus award worth 10x your bet. And if your free game victory is more than 5x your bet but less than 10x, you'll win a bonus prize worth 5x your bet.
There's a lot to explore in Fruit Bowl XXV, so fire up CoolCat Casino and watch the blood fly. Or should we say, watch the juice squirt?