When it comes to lucky charms, nothing can compare to your account at CoolCat Casino, because it gives you access to our amazingly fun online slots game, Double Ya Luck! Forget about that old rabbit's foot; Double Ya Luck brings you so many ways to get rewarded, you won't need any of those little trinkets.
It all starts when you see the Double symbol. In addition to meaning automatic big rewards, the Double symbol serves as a wild card for many of the other symbols in the game, but the fun doesn't stop there! Keep spinning those reels until you see 'Double' paired up with 'Ya' and 'Luck' for your chance to enjoy an amazing bonus round of five free games. Simply select a color, and you could be on the way to doubling those free games for a chance at even more incredible winnings.
When we say there are a lot of ways to get rewarded, we mean it. Double Ya Luck featured not just one, but two amazing bonus rounds, including an awesome board game feature game that puts you on a race around the board on your way to big prizes! If that's not enough, the incredible jackpot with a $222 reset amount virtually guarantees that someone will take home an unbeatable cash prize. Fortune favors the bold, so it's always a great time to Double Ya Luck!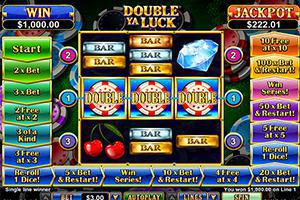 Inspired by the old-school, 3-reel classic slot machines we used to play, Double Ya Luck keeps it simple in order to maximize the fun. If you can roll the dice, you've got all the skills you'll need to get lucky with this throwback game. Simply select how many lines you'd like to play and make your bet, which can be anything from $0.01 to $5.00 per line, and you'll be ready to get started. A simple click of the Spin button will get the reels whirling, and you'll be on your way to some incredible rewards.
Since you're such a great player, we'll share our secret strategy for Double Ya Luck. Even though the game is completely random, we suggest starting by betting the minimum and increasing when you win. If you lose, it could be a good idea to decrease your bet slightly. Our plan is certainly not foolproof, but it could lead to big wins. Feel free to develop your own unique strategies and test them out before putting your money on the line; that way, you can test your luck without risking a single cent.
If you're a fan of old-school slots with plenty of chances to win, Double Ya Luck is the perfect game for you! With all of the classic feel (including the cherries, diamonds and gold bars!) and fun you love and loads of bonus rounds and jackpots to keep you on the edge of your seat, we can't wait for you to give this amazing slot machine a try. When you're feeling a little lucky, come play with your friends at CoolCat Casino and Double Ya Luck!