Transport yourself to ancient Greece with July's game of the month – Achilles. Any fan of history will enjoy this exciting take on slot action, which features a full range of rewarding opportunities with components drawn from Greek mythology that are sure to help you immerse yourself in the gameplay. When you're ready to get started, simply take your pick between the instant play and downloadable versions of the game, and get ready to step into the sandals of one of history's most well-known heroes. Let's take a closer look at a few specifics that can help you get your game off on the right foot.
The Basics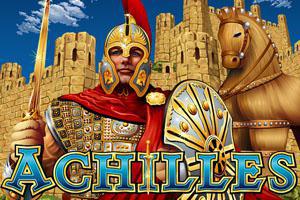 Though covered in a collection of historical components that make Achilles a truly unique experience, getting started is probably easier than you think. After loading the game, you'll need to select how many lines you'd like to play.
This slot offers up to 20 paylines, and the more you play, the more chances you'll have to win on any given spin. When that's done, you'll need to decide how much you want to bet per line. Remember, all of your free games will be played at the bet of the initiating spin, so it can definitely pay to maximize your bet whenever possible. With all of that out of the way, you're ready to spin the reels and get on your way to your first big win!
A Worthy Hero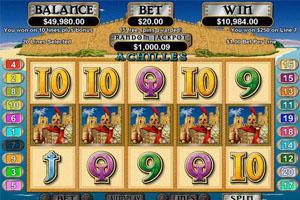 In this slot, the developers built upon the considerable lore surrounding Achilles in order to give the game a worthy hero. With his historic deeds in the Trojan War, Achilles entered the history books, and Real Time Gaming used this story to create a slot that gives a virtual look at the subjects of the historical clash.
Subjects ranging from the Trojan horse and legendary shields to the Trojan banners and soldiers are all present to help you claim bankroll boosting wins, but the unquestioned hero in this title is Achilles, the battlefield hero with the vulnerable heel. As the hero, Achilles swoops in to save the day by serving as a wild symbol that will help you complete your near-miss combinations. In fact, the only symbol that can't be substituted by Achilles is Troy, which serves as the games scatter symbol.
Rewards from Troy
This slot offers you the chance to collect upon the rewards offered to Achilles by Troy. If you can collect three, four or five Troy symbols in a single spin, you'll claim a bet multiplier of three, 30 or 500 times, respectively. If that's not enough, collecting more than three Troy symbols will also provide you with ten free games with doubled rewards. Likewise, three or more Achilles symbols will present an opportunity for free games with tripled rewards. With so many ways to win, this slot definitely pays tribute to the heroic adventures of Achilles so many years ago.
Take a break from your normal game, and give July's game of the month a try! With a little luck, you'll be on your way to a big win in no time.