If you love Greek mythology, then this is your lucky month. Greek Mythology comes to life right here at CoolCat Casino with our Game of the Month. It's called Achilles and it's loved by thousands of CoolCat Casino players all over the world.
So what makes it our Game of the Month? Well, we constantly release new online slots games at CoolCat Casino, averaging one or two every few months. While new games are great, old favorites end up taking a back seat for lots of players.
Achilles happens to be one of the most rewarding games at CoolCat Casino, so we wanted to introduce it to new players and reintroduce it to old ones. We hope you enjoy it.
Immerse yourself in a realistic Greek mythology experience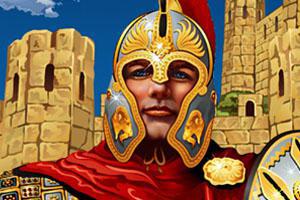 Without a time machine, it's impossible to know what Ancient Greece was really like. But given its seemingly authentic look and feel, we're guessing the guys at Real Time Edge, our software partner, have some sort of temporal displacement device. The Achilles online slots game comes packed with ancient symbols. We're talking Achilles, Helen of Troy, swords, shields, Helen of Troy, the Fort of Troy, and all kinds of other symbols to make you feel like you're there.
The symbols aren't just there to make things authentically interesting. They're there to reward you in a big way. The Fort of Troy symbol is the scatter symbol and could lead to prize multipliers worth 500x your bet. The Achilles symbol is the substitute symbol. It can replace other symbols in the game (kind of like a wild symbol) to help you complete a winning combination. The exception to this, however, is the Fort of Troy symbol, which can't be replaced by the substitute symbol.
How to play Achilles
Achilles is a relatively easy online slots game to play. Simply start by placing your bet using the up and down arrows next to the Bet and Lines buttons. You can bet between a penny and $5 per spin and you can play between one and 20 paylines. It all adds up to as much as $100 per spin or as little as $0.01. To lock in your bet, click the Spin button. When the reels stop, you'll get paid out if you managed to line up symbols (or you might end up playing a bonus round).
There's also a potential jackpot that's completely random. It's triggered randomly and it's not dependent on how much you wager. That means you could wager $0.01 per spin or $5 per spin and still qualify for the jackpot either way. When the jackpot pops, it resets so you've got another chance to hit it again. Remember, not all online slots come with jackpots, so take advantage of this opportunity.
One of the best slot bonus rounds ever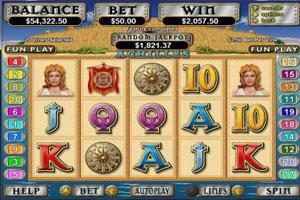 Achilles comes with a great bonus round. If you land on three Achilles symbols during a regular game, you'll get to play the bonus round. As soon as you enter it, you'll be asked to choose any of the Achilles symbols on screen. When you do, you could end up uncovering 15, 20, or as much as 25 free spins.
It gets even better. During the free bonus round, all prizes are tripled. So whatever you were eligible to win during a regular round, you'll end up earning 3x prizes. Even at the smallest bet possible, that adds up to a lot of potential money. But you won't necessarily be restricted to the smallest bet. That's because your bonus round bet is determined by whatever wager you placed getting into the bonus round. So if you bet $1 on the spin that rocketed you into the bonus round, you'll wager $1 per spin during the bonus round.
But don't worry about blowing through your bankroll. The best part about the bonus round is that you won't be risking your own money. While the spins are set at a real dollar value, and while all prizes are in real money, you'll be spending the house's money, not your own.
The bonus round doesn't necessarily max out at the 25 spins either. That's because there's a City of Troy symbol. If you hit it, you'll automatically earn another 10 free spins on top of what you initially won.
If you like Achilles, you'll love these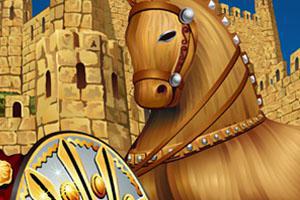 Achilles is just one game in our lineup of games based on ancient history or mythology. If you enjoy Achilles, give Caesar's Empire, Aztec's Treasure, and Cleopatra's Gold a try. These three games are unique in their own ways, but they fall into the same family in terms of theme, rewards, and potential for big wins.
Play Achilles for free at CoolCat Casino
If you want to give Achilles a try, come join the action at CoolCat Casino. If you're not yet a member, now's the best time to join. Achilles is now open for free play, so as soon as you're set up with an account, you can play as much Achilles as you can handle.
The free Achilles game will feel just like the real thing. You'll spin with what appear to be real credits. You'll win what appears to be real money. If you end up playing the bonus round, you'll play with on the house cash. The difference between the free Achilles and its real money counterpart is that the money you wager and the money you win aren't real. So if you hit a massive jackpot and suddenly find yourself sitting on $6,321, just remember that the cash is just pretend.
If you want to play for real, we make it easy to jump into the real money action. Your account comes with the option to deposit for real money. When you do, you'll be able to choose real money gaming and play Achilles with US dollars (and cents, if you opt to pet pennies per spin).
Plus, there's a huge collection of other online casino games, too. In addition to Achilles, you'll find over 160 online casino games, including over 100 slots, dozens of table games, video poker machines, and specialty games. It takes just a few minutes to set up an account, so come play.