Put on your Santa hat and put up the mistletoe! Santa Claus is coming to town. This year he is doing things a little differently, though. Remember that Santa makes a list and checks it twice. He checks to see who has been naughty and who has been nice. This year though, he is only checking to see who has been naughty. He is not doing it to be mean and give everyone giant lumps of coal though. He is doing this because he is actually going to reward all the naughty people this year. It pays to be naughty, literally! Santa has brought The Naughty List, the newest Christmas game from Real Time Gaming, under the CoolCat Christmas tree for every naughty boy and girl in the CoolCat family.
Join Santa on his sleigh along with his two favorite helpers. That's right. Santa has brought along for our viewing pleasure two of his sexiest helpers. Forget elves. We know that you will love this grand and unforgettable adventure of a lifetime, especially because of all the cash you will win! These girls know just where to get the prizes and presents to heat you up this December. You have complete liberty to be as naughty as you wish. With two jackpots, 50 paylines, and a cool feature game that lets you unwrap presents before you are supposed to, and tons and tons more, there is a lot of fun to go around.
How to play The Naughty List Online Slot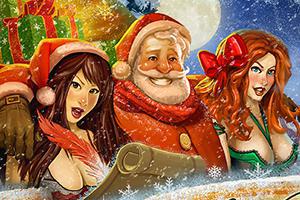 It is time to get naughty, and doing so has never been easier! Begin by deciding the amount you would like to wager. You can bet $0.01, $5, or anywhere in between. After that you need to decide how many paylines you would like to play with. You can play just one line, all 50 lines or anywhere in the middle. Then it is time to let her fly! Click the spin button to lock your bet and paylines and watch Santa's sleigh take off! After that the only thing left to do is watch the magic of Santa's Christmas powers pour the money into your pockets.
The Naughty List Game Rules
Every symbol in The Naughty List pays left to right. The only one that is different is the scatter symbol – the Naughty List symbol, which pays out in any direction. That is truly a good way to rake in the rewards. And that is not all. Any scatter wins are added on to your normal line wins and multiplied by your total bet. There is also the Santa substitute symbol, which can substitute any symbol in the game except for the scatter symbol.
The Naughty List Bonus Feature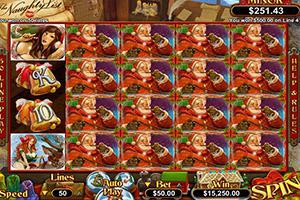 The Naughty Pick Feature is this hot new game's bonus feature. Be on the lookout for three Naughty List symbols because if three of them do show up the Naughty Pick Feature activates, but of course not before you receive your pay out for the spin. The other symbols in the game are just as important as the Naughty List, though, so do not underestimate them. You can profit really big by getting multiple matching symbols before the bonus feature even activates.
Here is how the Naughty Pick Feature works. There are 20 presents to unwrap, but you had better do it fast before Santa catches you. You'll see a prize multiplier or a bonus value. The game will keep track of it all for you. The bonus round ends as soon as you've opened all 20 gifts or when you've hit two Naughty Notes. At that point, you'll get to play the fantastic free games round where 5 free spins are yours.
Love high speed cash winning? Love being naughty and getting rewarded for it? Then, the newest game from Real Time Gaming, The Naughty List, is for you. All you have to do to experience the extreme fun is to sign into your CoolCat Casino account and click on The Naughty List to play. From all of us here at Cool Cat Online Casino, we wish you a merry Christmas and a Happy New Year!