Cool Cat Casino welcomes you to our 2013 bonus tour of Sin City. Our regular and VIP members both have a shot at winning amazing prizes using a few city insider tips about the best places to visit and the best things to do while visiting the city of sin. Our first stop on the tour will make you…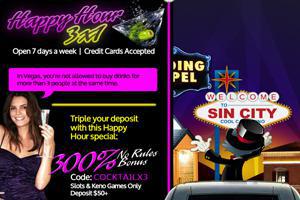 Get Happy!
Visit the 3×1 Cocktail Lounge and sip high priced, top shelf cocktails with your 300% bonus on all Cool Cat Casino slots and keno games. This cool and refreshing bonus will make your insides tingle, and you can get it by depositing $50 or more and whispering the code, COCKTAIL300, to the bar tender.
On our next stop on the Sin City tour you can…
Get Inked!
Whether you want a fire breathing dragon or a mermaid in the waves, you can grab your 180% bonus at the Slippery Ink Tattoo Parlor. This bonus is good on all allowed Cool Cat Casino games, but you have to fork over a minimum of $30 and tell the tattoo artist, "TATTOO180".
If you're in the mood for love and a marriage license, you can…
Get Hitched!
This amazing bonus is especially for the brave and bold wedding chapel wanderers who want to earn a 500% bonus good on any game just for exchanging vows. This bonus doesn't require a deposit at all, but it does require that you recite the bonus code, WED500, with adoration.
This Cool Cat Casino Sin City tour will now take you to where you can…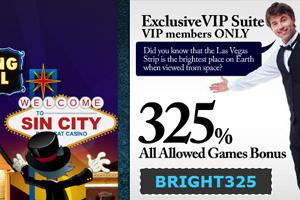 Get Pampered!
There's nothing quite like visiting the best spas and hotels in the greatest city on earth and getting to use a 325% bonus on all allowed Cool Cat Casino games. This bonus will only cost you a small sum of $30 or more, and all you have to do to get pampered like a millionaire is to enter the bonus code: BRIGHT325.
Our final stop on this Sin City tour is the luxury hotel where you can…
Get Loose!
Finally, you can now lay back and relax in your luxury hotel suite. This suite doesn't just come with a Jacuzzi tub and free movies, it also comes with a 660% bonus on all allowed Cool Cat Casino games. Hard to imagine so much opulence and awesomeness in one place, but all you have to do to check into your room is to deposit $30 and enter the code: HOTEL660.
Cool Cat Casino is the only online casino gaming site where you can take a tour of Las Vegas without ever leaving your house. Visit Sin City, play your favorite games, grab awesome bonuses, and win big prizes.