While many know New Jersey as the home to bronzed, beach bumming celebs from a well-known reality show, New Jersey is also home to Atlantic City, a city that has been a household name in casino gambling since 1978.
The Dwindling Casino Gets a Hand Up
Before the first casino began operating in 1978, gambling of any kind was illegal in New Jersey. Today, one of the biggest draws to the New Jersey shore is the bright lights, glittering possibilities, and risks and rewards of casino gambling. Unfortunately, either due to a poor economy or poor marketing, Atlantic City casinos have lost quite a bit of floor traffic. Over the past decade, fewer people have been treading the boards of the boardwalk and venturing into the casinos to pad the pockets of the house.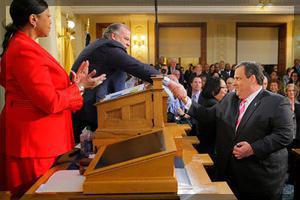 Because of this, Governor Chris Christie has signed into law a revised bill that will allow online casino gambling for online casinos directly tied to brick and mortar casinos already established in New Jersey. Whoa! New Jersey online gambling is legal? Finally!
What does this mean for New Jersey? This means an increase in revenue through the taxing of online casino revenue up to 15%. What does that mean for New Jersey legal gambling casinos? That means that they can bring in a steady stream of gamblers online and even convert many of them to paying casino/hotel occupants.
And…?
What does this mean for you? It means that if you live in New Jersey and haven't had the opportunity to try your hand at the wonderful casino games Atlantic City casinos offer, you can go online and gamble to your heart's content (although we highly recommend that you use moderation in all things).
Hold Yer Horses!
While you may be ready to login and win some fast cash, you need to put a hold on your excitement. The bill was signed into law, but before any online casinos can publish their sites the State Division of Gaming Enforcement must set a start date which can be anytime between 3 to 9 months from now. That gives the state time to set up their taxing processes, and the casinos time to design and beta test their online casino sites.
New Jersey has become the 3rd state in the US to legalize online gambling, with many other states looking to their example as a way to ease the weight of unbalanced budgets and increasing debts.
When the online gambling sites are up and running you can tell yourself that the money your depositing is an investment in your government – it might help you feel a little better when you lose.