Beep! Beep! There goes that ever-elusive Road Runner, escaping with all of Wile E. Coyote's jackpot winnings! Now is the time to put those ACME Co. products to the test, because if you can catch that speedy bird, more free cash is headed your way.
Amazing Monthly Bonuses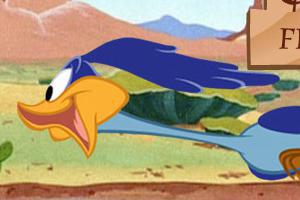 This month, CoolCat Casino is teaming up with everyone's favorite industrial-powered invention company to provide our players with unbelievable chances to win!
Start your adventure with a classic: the ACME Rocket Sled. By using Wile E.'s favorite form of high speed transportation, you'll receive an amazing 500% match bonus on all allowed games. Whatever your game of choice, the ACME Rocket Sled promotion will put you on your way to big winnings at lightning speeds!
If riding a rocket isn't your thing, you'll want to check out the ACME Disintegrating Pistol. Fire away at the Road Runner for a 600% match bonus on Slots, Keno, Bonus Bingo and Scratch Cards. Watch the barriers between you and a huge win disappear with one pull of the trigger with the ACME Disintegrating Pistol promotion.
For nature lovers, the ACME Earthquake Pills provide a massive 650% match bonus on Slots, Keno, Bonus Bingo and Scratch Cards! You're sure to feel the ground trembling beneath your feet following a few major wins with this promotion.
If you'd prefer something a little more personal, the ACME Roller Skates promotion will have you rocketing toward some major cash in no time! With an impressive 350% match bonus for Slots and Keno, these roller skates provide players with absolutely no playthrough restrictions, no max cash out limits and unlimited redemption opportunities!
Grow a storm of cash with the ACME Tornado Kit! With a 510% match bonus on your choice of games, your head will be spinning following a few big wins with this promotion.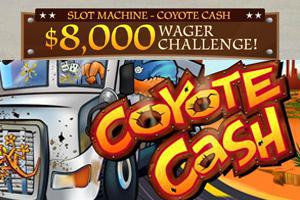 Finally, the ACME Tiger Trap is designed to help you catch the big bucks! Valid for Slots, Keno, Bonus Bingo and Scratch Cards, this promotion features a 300% match bonus without playthrough requirements or max cash out restrictions. Use this promotion to help you bring home some serious scratch.
The $8,000 Coyote Cash Wager Challenge
We can't let the Road Runner have all the fun! Check out the Coyote Cash $8,000 Wager Challenge for a chance to win an $8,000 free casino chip.
How to get into the draw is really easy (unlike any of the Coyote's attempt to catch the Road Runner). Simply wager your deposit plus our great NO RULES BONUS CODE we have carefully set up for you to enter in the giveaway. Of course you can only enter by using the code to play on our awesome Coyote Cash slot machine, and the winnings could be yours!
Wile E. Coyote's Monumental VIP Bonuses
As a special thank you to all of our VIP players, Wile E. Coyote is digging deep to provide more free casino cash than ever before! With four amazing promotions offering up to 650% match bonus on a variety of games, you'll understand why the world's most famous coyote has had no problems keeping the ACME Co. in business for all these years.
The chase is on at CoolCat Casino, and it's finally time to catch the ever-elusive Road Runner once and for all. Whether you're ready to try out a few of ACME's finest products for yourself or you just want to cash in on Wile E. Coyote's new-found generosity, there's something for everyone with this month's amazing promotions!
That's how Coolcat Casino is getting the chase started this February. For more information on how to activate your bonuses or how to become a VIP, be sure to contact the Customer Service department via the Contact Us page of our website.