Space. It's the great beyond, the final frontier, and your primary destination this month at CoolCat Casino. Tint yourself your favorite shade of green, hop in your trusty flying saucer, and get ready to take aim at some of the world's most recognizable destinations in exchange for big time deposit bonuses for all of your favorite games. As an official extraterrestrial, you'll need to put all empathy for humanity out of your mind. Instead, focus those lasers and fire away for a chance to blast off to brand new heights.
Don't ask us why, but the outer space authorities seem to be determined to attack four countries during their time in our atmosphere. Put on your role playing glasses, and you'll be rewarded with some seriously generous promotional deals. Are you ready to learn more? Please, proceed.
Target Acquired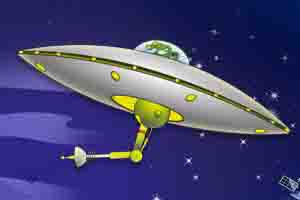 We're not so sure that the aliens are exactly familiar with our human customs, because the targeted destinations are labeled a little differently than they appear on the map. Sure, the United States and Egypt are right on target, but France and Italy appear to be marked in two destinations across Russia. Is that part of the plan, or is something afoot? Who knows? Just go with the flow, and choose your target. When you fire away, bonus cash will be headed your way.
The first target on the list is France, and it seems clear that Paris is in the crosshairs. If you hit the big red fire button, the city will be reduced to a crater and you'll be treated to a 310 percent bonus on your next deposit of $50 or more. This offer can be used on both slots and keno, and it features no playthrough or max cash-out restrictions. If you decide to spare France, Egypt may be a worthy target. A quick click of the fire button will level the pyramids and net you a no-rules 200 percent bonus that's available on nearly every game in the casino.
Keeping with the theme of destroying man-made wonders, the Coliseum is the target in Italy. Blast away to claim a 690 percent bonus on your next deposit of $100 or more. This offer features a 30 times playthrough restriction, a 10 times max cash-out limit and can be used on either slots or keno. For those aliens who take aim at the U.S., Mount Rushmore is the target. Decimate the presidents for a 500 percent bonus on any deposit of $30 or more. This offer is available on all allowed games and features a 10 times max cash-out limit and a 30 times playthrough restriction.
$10,000 Free Chip Challenge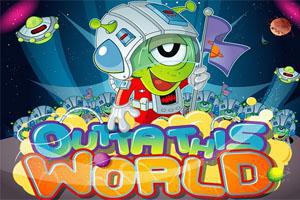 Otherworldly offers aren't all about destroying the planet. They're also about opportunities to supercharge your bankroll. You'll struggle to find a more generous offer than the Outta This World free chip challenge. To participate, all you'll need to do is take advantage of the generous 200 percent bonus offer on your next deposit of $30 or more. Playing our galactic slot 'Outta This World', you'll be tasked with wagering your deposit plus the bonus by 150 times or more. If you're successful, your skill will be rewarded with an enormous $10,000 prize. If you've been looking for a way to send your bankroll sky high, there's no better option than this incredible free chip challenge.
Getting Started
By now, you've probably got your eye on one or more of those incredibly generous deposit bonuses. All you'll need to do to get started is make a deposit that meets or exceeds the minimum deposit level while also using the relevant redemption code. If you've got any questions about activating your bonus or if you'd like to learn about the benefits of becoming a VIP at CoolCat Casino, just navigate to the Contact Us page of this website. Our industry-leading customer support team is available around the clock to address any and all concerns. Do you have what it takes to board a flying saucer and take your gaming experience to brand new heights? Cash in on the presence of your alien friends before it's too late, and you may be probing a huge stack of cash before you know it!