When I head to a casino and take a seat at the Blackjack tables, I have a horrible habit of counting my chips every few minutes. I can't help but count my stack so I know how much I'm up or down. It also helps me figure out when to walk away.
I've heard players tell me counting during a game is bad luck. But now I think I've got good reason to keep my eyes on my chips.
A man playing at an Adelaide, Australia casino lost $40,000. Not playing cards. No, he had it stolen by three bad guys. The Chinese national was playing Baccarat when he placed his bag of chips down on the seat next to him. Wrongfully assuming that he money was safe with the eye in the sky always watching, the player didn't keep his eye on the bag.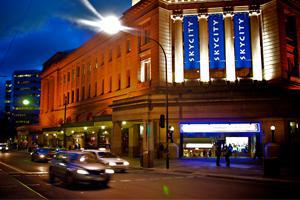 Noticing an opportunity, Khodr Sam Dib and two friends decided to steal the chips. Dib had a drug habit to support and debts to pay. And the Chinese national looked like an absolute whale, placing big bets. So they swiped the chips. It's not clear how they got away with it, but they likely distracted the player.
Dib was just sentenced to five months in jail for the incident. I'm not sure that's long enough to teach him a lesson, but at least he's not getting away with it.
It turns out casino robberies are more common than you think. Only it's usually thieves trying to steal money from the house, not other players.
One such incident occurred up in Canada last month. In Calgary, Albert, a couple of would-be thieves tossed an ATM onto a cart and wheeled it out of the casino. It was night so the casino was closed for a few hours. But that doesn't mean they got away with it.
The thieves were caught on camera making off with what they assumed was a large amount of loot. But here's the hilarious part. The ATM ended up falling off the cart and onto one of the thieves. And the even more hilarious part? The ATM was empty. No cash. Nada.
If you're worried about thefts at casinos, don't be. Just try not to leave thousands in chips on the seat next to you. And if you're still worried about getting pick pocketed or being in a casino when thieves try to make off with an ATM, stay home and play online casino games instead. CoolCat Casino has all your favorite games. The only bandit you'll have to worry about is the one-armed kind. And even then, we've got big jackpots and some of the highest payouts in the industry, so that moniker doesn't apply here.