Trying to cheat the house could land you in the big house. One New Jersey man is now facing charges after cheating at Sands Casino Bethlehem in Philadelphia. It was shortly after 3:30am last Sunday that Christopher Jenkins was enjoying a little Blackjack.
But rather than playing normally, Jenkins tried to take advantage of exhausted dealers (aftert all, it was 3:30am) by trying to sneak in bets after no more bets were called. It's called "past post betting" or "late betting", and it involves dropping down more chips after your cards have been dealt.
For example, you might bet $50. Then, after you're dealt two Kings and the dealer shows a 6, you drop down another $50 while the dealer isn't paying attention. Doing so is cheating and illegal, plain and simple.
Jenkins was caught in the act and arrested at the casino. At first, he provided the police with false identification and a birth date. The police soon figured out the identification wasn't real, which likely added to the charges.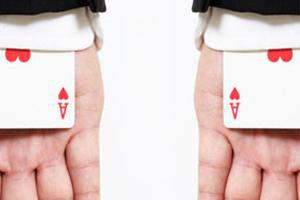 To be clear, this is cheating and it's 100% illegal. If you're going to play at a casino, make sure you're playing within the law or you could find yourself handcuffed and charged with a crime. It's just not worth it.
But an interesting case out of Nevada in which a Blackjack player was handcuffed for trying to beat the house is making its way through the courts. A New Jersey man is claiming that the Hard Rock in Las Vegas stole $3,600 in chips after the man was caught counting cards.
Thom-Matthew Kho filed the lawsuit a few months ago. In the lawsuit, he claims that he noticed he was being watched for card counting. He decided to take his winnings and leave on his own. Unfortunately, he was handcuffed on the casino floor when he tried to cash in his chips and held against his will.
He was asked to provide identification but opted not too, which is also not illegal to do so. In his lawsuit, Kho alleges that the casino took $3,625 in winnings from him. He's seeking more than $10,000 in compensation.
The two stories are similar in that both players were playing Blackjack and both players were handcuffed and held at casino. The difference, though, is that Kho wasn't actually doing anything illegal. While late betting is a crime, using your brain to count cards in Nevada is not illegal. Casinos don't like it, but there is no law on the books that makes it a crime.
We're willing to bet (not late betting, of course) that Kho will win his case since the casino clearly broke the law by holding him against his will and confiscating his winnings. However, the same cannot be said about Jenkins. He clearly broke the law.
In the mood for some Blackjack? Play now at CoolCat Casino. You won't be able to bet late even if you try, but feel free to practice your card counting. We promise not to stop you.