Bad news for Macau casinos. After enjoying gambling revenues that eclipsed anything Las Vegas, Nevada casinos had seen, the Chinese gambling hub has seen better days. Revenue has dropped an incredibly 17.2 in the fourth quarter of 2014. Now, the government has scaled back its revenue predictions for this year by 27 percent.
Making matters worse? An outright smoking ban could see revenue freefall even further. Last October, the government instituted a policy that banned cigarette smoking to the main gaming floors. VIP rooms are exempt from the ban, but that will like change if lawmakers have their way and institute a complete smoking ban in 2016.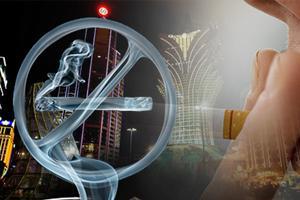 So could an outright ban on smoking lead to the closing of casinos in Macau? It's very possible. Just look at Atlantic City for proof. When Revel opened its doors in 2012, it was supposed to be the crown jewel of Atlantic City. Rising above the Atlantic Ocean, its glass exterior was a beacon of hope with the sun reflecting off it ever so brightly. And then people went inside, where they discovered that they couldn't light up.
Today, Revel is bankrupt and closed. No casino. No hotel. Thousands and thousands of people out of a job. One could argue that the smoking ban led to its demise, or at least played a significant part. After all, with every other casino allowing smoking on the casino floor, and with Revel forcing people to light up outside, the casual gambler who enjoyed a cigarette at the tables or slots chose the competition over Revel.
But before you start planning Macau's funeral, there is some reason for hope. A smoking ban would mean a ban on smoking across all properties, not a select few. Head to Casino Niagara or Fallsview Casino in Niagara Falls, Canada, and you're not allowed to light up anywhere inside the property due to a law that bans smoking indoors across the province (you can't even smoke in restaurants or bars). Gamblers know that they don't have a choice (except, of course, to head across the border and play at Seneca Niagara).
Still, Macau casinos are having trouble bringing over the big whales and this will only complicate the matter. Hopefully the big casino players will step up their game and come up with something innovative to satisfy smokers with big money to spend.