Marie Holmes won the Powerball and instantly established herself as one of the country's most memorable feel-good stories. A single mother, Holmes was supporting four children on her own before laying claim to the $88 million windfall. After winning, news reporters repeatedly aired interviews in which she suggested the benefits of the money. Her first plan, according to those reports, was to use the winnings to move out of an apartment she was sharing with seven roommates and find a more fitting home for her children. At this point, much of the country rejoiced in the fact that the lottery had made a truly positive impact.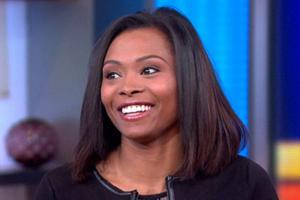 Since then, things have been a little less rosy. According to reports, Holmes is making quick work of her massive winnings by bailing out her boyfriend and paying his legal fees. In total, close to $10 million have already been spent in related expenses, making a sizable dent in the $88 million win.
Holmes's boyfriend, Lamarr 'Hot Sauce' McDow, was reportedly arrested multiple times on a collection of charges – including drug possession, violation of a court-ordered curfew and possession of an illegal weapon – since the Powerball win. As a result, Holmes has dished out well over $9 million in bail alone, and resulting legal fees won't be cheap.
McDow hasn't been the only one getting into trouble in recent months. Holmes, 31, was also arrested on drug charges when police came to get her boyfriend and smelled marijuana. Although three of her children were at home at the time of the incident, the Family and Children Services chose not to get involved.
Following the report of Holmes's spending, social media is making its collective presence felt by blasting the mother of four. In response, she issued a heated statement on Facebook, blatantly telling everyone to mind their own business. Knowing the way that social media works, we have no doubt that this statement will have the exact opposite of the intended effect.
When Holmes won the Powerball jackpot in February, she was one of three to claim a historic $564 million prize. The jackpot was the fifth-largest in the history of the U.S. lottery. Prior to Holmes's win, the last time a Powerball jackpot climbed to those heights was in May 2013, when a Florida man claimed a $590.5 million prize.
While the feel-good story was once pulling at the heartstrings of the nation, it appears that the narrative has taken a turn for the worse. Now's a good time to think about what you would do if you won the lottery. Whether you would buy a small island in the Pacific and spend your days on a beach with a cold drink in your hand or pour countless sums into the legal system in order to help out your boyfriend, there's no debating the life-changing impact that a Powerball win can have on a person's existence. At this point, only time will tell how the inspirational tale of Marie Holmes's historic jackpot win ends.