Your favorite CoolCat Casino cat — CoolCat himself — is taking a trip to Sin City and you're along for the ride in classic high roller style. Step into the limo, pop out of the sunroof and marvel at all Las Vegas has to offer as you tour Las Vegas Boulevard and soak it all in.
Oh, and how there is a lot to soak in. We've taken every Las Vegas cliché and packed it into one amazing Monthly Promotion for the month of August. Whether you're new to Las Vegas or you're a seasons Vegas tripper with loyalty cards for every casino, you're going to be all over the August monthly promotion — and we're not even talking about the bonuses.
Check in to a fancy hotel. Head to the VIP section at a certain palatial hotel. Grab some cocktails at a local watering hole. Get a tattoo after downing too many cocktails. And hit a wedding chapel to get hitched by Elvis himself.
But this Vegas trip promises to be way more rewarding than any other trip to Sin City you've ever been on. That's because throughout our virtual Las Vegas strip, you'll find all kinds of bonuses and incentives that makes depositing way more lucrative.
Happy Hour 3×2
It all starts with a few cocktails at our local bar where we'll pour on 300x more on your next deposit. The 300% bonus is a No Rules Bonus that works on slots and Keno games. And all it takes is a $50 deposit to take advantage of it. No Rules Bonuses are great because they have no playthrough requirements and no maximum withdrawal limits.
Get Hitched to a Bigger Bankroll
With your liquid courage, it's time to fall in love at the Wedding Chapel. Say 'I do' to a 500% bonus that works on all allowed games. This one only requires a deposit of just $30. Keep in mind, however, that it comes with a 30x playthrough requirement and a 10x max cash-out. That 30x playthrough requirement jumps to 60x if you're playing tale games and video poker, but it's totally achievable since big swings tend to happen more frequently.
Check In & Relax With 660% More
After getting hitched, you're going to want to celebrate in a private room (what you do is totally up to you). So check in to the CoolCat Hotel and enjoy our biggest bonus yet. It's worth 660% and works on slots and online Keno games. Just $30 is all it takes to take advantage of the bonus. This one also comes with a 30x playthrough and max cash-out limit.
Walk the Red Carpet Like a VIP
Are you a CoolCat VIP?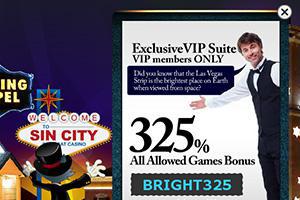 Then you're going to want to take advantage of our 325% bonus. Exclusive to VIP members only, this bonus offers you a 325% match bonus on your deposit. That means if you deposit $100, you'll get an additional $325 from us, on the house. There are a few caveats, though. You'll need to meet the 30x playthrough requirement, and there is a 10x max cash-out limit to be mindful of. But if you've got $30 to deposit and you're a VIP, you'll love this one.
Find the Bonus Codes
Each one of these bonuses requires a special coupon code (that's the same as a bonus code if you're coming from another online casino). You can find each one on our Monthly Promotion page. You simply need to stroll Las Vegas Boulevard and pay each of these destinations a visit to find out what's in store. Half the fun is exploring, so even if you're not in the market for a bonus quite yet, hit the Monthly Promotion page anyway an join CoolCat on his Las Vegas adventure.
Join CoolCat Casino Now
Ready to take advantage of these bonuses? All you need is a CoolCat Casino account. You can get one for free with a few pieces of information. Don't worry. We won't ask for your blood type. All we need is your first and last name, your date of birth, and your email. Once you set a password, you can access CoolCat Casino on your Mac, PC, or even on the go on your smartphone and tablet.
With your free CoolCat Casino account, you can play free online casino games, including over 150 online slots, every table game you can find in Las Vegas, lots of video poker variations, and great specialty games like Keno. When you're ready to play for real money (and win real money, of course), one deposit is all it takes. Don't forget to grab those coupon codes before you deposit.
And if you've already made your deposit before reading this, don't worry. The Monthly Promotion coupon codes for August are good until August 31st. But as soon as September 1st rolls around, your Las Vegas vacation is over, so don't miss out.