What do Keanu Reeves, Beyonce and Charlie Sheen have in common? Anyone?
They're all September's babies! That's right!
What do they have in common with CoolCat Casino? September is our celebrity month and we will be celebrating them with special bonuses that vary in valid dates, percentages and credit money chips.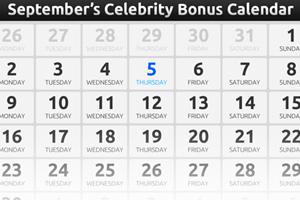 Like never before, at CoolCat Casino we are celebrating September by making a party for celebrities who in one way or another, live in our everyday lives. Movie stars, singers, royalty icons and sport's stars. They are all here!
Every day of this month is dedicated to one celebrity that will bring a new day to celebrate and a special bonus. Let's call it a gift from that celebrity to YOU!
Check out some of the shows for September's billboard:
Moby's birthday is Tuesday 11th and he's bringing a massive special offer for that day: a Funky Monkey 400% No Rules Bonus. Did you know that Moby was born in New York and is actually related to the writer of "Moby Dick," James Frederick Hall?
On September 15th we'll be rejoicing royalty with a crowned 200% bonus that will be valid for one whole week. The royal bow will go to Prince Harry who will turn 29 years old and who as we know, is also very fond of celebrations!
Sports fans out there, one of the days we will celebrate you, will be on September 18th. On that day we will sing Happy Birthday to Ronaldo with a $50 Tournament Chip. Ronaldo is considered by many experts as the best soccer player of all times. He has played 98 matches together with Brazil's national team and has played for international teams like PSV Eindhoven, Barcelona, Inter Milan and Real Madrid, among others.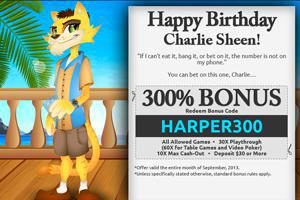 Ghost Busters Day will be celebrated through Bill Murray's birthday on September 21st with a 500% bonus that will be valid for the whole month of September in Slots & Keno. This humorous actor, mostly recognized for Ghostbusters or Groundhog Day, has proven to be an accomplished actor by winning an Oscar for best actor in his performance in "Lost in Translation."
Bruce Springsteen will turn 64 years old on September 23rd and we will celebrate him through a 300% No Rules Bonus in Video Poker that will be valid from that date and until the 25th. This all-American celebrity has won 20 Grammys throughout his career and it seems as if nothing will stop his energy to keep going.
Want to know what other surprises will come this month? Hurry up and visit our Monthly Promo page right now! If you're already a CoolCat Casino player, then you know that this month is a Bonus Grand. And get ready for October…Remember Halloween?