"Round about the caldron go,/ In the poisoned entrails throw./ Toad, that under cold stone/ Days and nights has thirty-one/ Sweltered venom sleeping got,/ But thou first i' th' charmèd pot./ Double, double toil and trouble,/ Fire burn, and caldron bubble."
This quote from William Shakespeare's Macbeth paints a very eerie and mystical picture of witchcraft in the first scene of Act 4 of this world-famous and historic play. This dark magic has the power to curse people, but these dark spells and conjurations do not only bring evil. They can bring fortune.
Cool-Cat Casino's newest game is proof that dark magic can bring you fortune. Delve in the beneficial powers that Voodoo can bring you and play this month's game of the month: Voodoo Magic. Its rewards will have you dancing around the caldron…or at least around your computer.
This 13-line slot game from Real Time Gaming has some stunning graphic art and eerie and spooky sound effects to really add in the dark atmosphere that it deserves. The game features the Wild Voodoo Priestess. She has studied and developed the power of metamorphosis, so she can change herself into any symbol in the game, with the exception of her favorite tool – the infamous Voodoo Doll.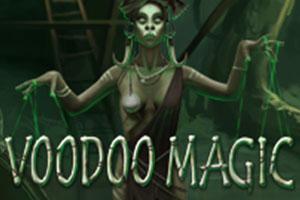 The Voodoo Doll symbol acts as the scatter symbol. When three or more appear, the scatter win is added to your line wins. This doll's enchantment can win you up to 25 free spins. The greater the number of scatter symbols you get, the more free spins you get. This crazy voodoo scatter spell has another effect. The scatter symbol can activate the powerful Magic Multiplier to bring you even more rewards.
The Magic Multiplier is the most powerful manifestation of the voodoo spells in Voodoo Magic. The Magic Multiplier works in mysterious ways, but if you understand its rhyme and reason, the method to the madness, then you can work voodoo's puppet strings to move in your favor. This very special feature unique to Voodoo Magic works like this; when activated, it can award players with x1 in your first free spin, x2 in your second free spin, x3 in your third free spin, x4 in your fourth free spin, x5 in your fifth free spin, x6 in your sixth free spin, and so on and so forth all the way up to the maximum expression of voodoo's power when it reaches x25 in your 25th free spin. The trick is to master the dark art to get that voodoo of yours at full power.
The best part of Voodoo Magic, aside from the supernatural amount of cash that can be won, is that you do not have to find and study a voodoo spell book to win big. There really is no strategy that you need to study for winning. That is the strange influence of voodoo. You can, however, employ betting strategies to see how high you can make the bets go. Try this: When you win a round, increase your bet a little; when you lose, reset the bet to the minimum or decrease it a little. If you are an experienced slot player, then you probably know other betting strategies that you can employ. Try your best and have fun!
Voodoo Magic is built to be enjoyed at any pace you wish. Feel free to take breaks and adjust paylines at your whim. If you want to play and win faster, you can use the AutoPlay feature. The software will pay out for any win and then spin again for you. You just have to sit back and watch the voodoo unfold.
So come and try Cool-Cat Casino's game of the month: Voodoo Magic. The creepiness will have you squirming in your seat, and the winnings will have you doing a spell dance.