Cool Cat Casino is excited to let all of you know that our first 5×4 reel slot machine: Shark School has been chosen as our Game of the Month for April!
Thanks to the great work provided by the cool crew at Real Time Gaming, we were able to bring to all of our members this fun packed new game at the end of last month. As you very well know, our list of games is constantly growing and we don't want you to miss on the latest casino game releases.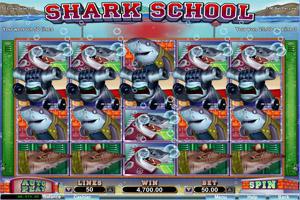 We are certain that Shark School has come to Cool Cat Casino to stay. Why? Because it has everything we all love in slot games: lots of opportunities to win big amounts of cash, amazing graphics, free games and tons of cool features. Besides, who doesn't like an adventure at the bottom of the ocean where you get to defeat the shark bullies?
When you attend Shark School you will have to go to school with the little fishes and yes, your teacher will also be a fish. Life at school is cheerful and fun, until the bullies hit the classroom and start bothering you and all of your classmates. Make sure you are ready to deal with those big mean boys and teach them a lesson by winning cash from them.
The game was created with the latest gaming technology that support amazing graphics that make the game seem very real. The game can be played in downloadable mode as well as online. Shark School has three main features you don't want to miss: The "Swim Fishy, Swim" feature, the "Bad Sharky feature" and the "Swim Teacher, Swim" feature. These three features are opportunities for you to win free games and prizes. Check out some of the guidelines and features you may want to remember before playing the game:
50 Variable Paylines
The top award is 39,000 times bet per line
There is a bonus prize of 200X per bet
Free games continue until the poor fishy gets eaten, or escapes after 25 games
The scatter symbol is the school
The Substitute Symbol is the teacher
All symbols pay Left to Right except scattered School, which pays Any.
How about it? Ready to try Shark School? At Cool Cat, we would love to know how much you enjoyed this new game. Write in the comments below this post and let us know what you liked best about the game, or which character is your favorite or how much cash you actually won. Whatever you feel like sharing with us about Shark School. We are eager to receive your feedback in order to improve our products and services.
Have fun!