You know what I love more than anything else? My birthday. And do you know why? Because it seems like the entire country is celebrating with me. That's right, my birthday falls on Christmas Day!
Now, if you're in the same birthday boat as I am, you probably hate Christmas. I did. For a long time actually. On Christmas Day, I'd open up my "birthday" presents, which just happened to be Christmas presents with an extra card. Don't get me wrong, my parents gave me a birthday gift, but if my brother got a Nintendo 64 with one game (I'm quoting myself here) for Christmas and a bike for his birthday, my birthday present would be a Nintendo 64 plus two games. The logic was, "You don't need two big gifts, just something small to go along with the big one." The logic sucked. It wasn't fair. But what can you do? First world problems, I suppose.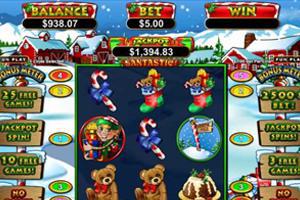 As I got older, I didn't really care about birthday presents. Or Christmas presents for that matter. And now that I'm newly married with a wife and kid, I LOVE having Christmas Day and my birthday coincide.
Why? Because my wife recognizes that it's MY day. And she lets me do whatever I want. And this year my birthday—and Christmas Day—is going to be Santastic!.
No, seriously. That's the name of the new game at Cool Cat. And believe me, I'll be spending the entire day playing it. Yes, I'll come up for air to celebrate with the family, but when the baby is down for a nap and the wife wants to go celebrate with her parents I'll gladly stay home with the kid. And play Santastic!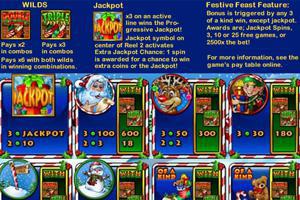 This game is a lot of fun. And it's a lot easier to play than some of the other Christmas themed games. Instead of five reels and 50 paylines like some of the other Christmas games, Santastic! comes with three reels and five paylines.
But don't let the reduced size of the game fool you. The game is loaded with bonuses, including Triple and Double symbols that could lead to up to 6x payouts.
And what I really love about Santastic! is the frequency of wins. Whenever you win with 3-of-a-kind (which is a lot) you get to play a special bonus game. It's the Festive Feast bonus round and it pays up 2,500x your bet per line. Or you could win free jackpot spins or up to 25 free games.
The game is packed with Christmas symbols, great holiday music, and enough Christmas cheer to last a lifetime. In a nutshell, it all adds up to a very Merry Christmas, not to mention a Happy Birthday to me!
I'm signing off extremely excited with what's in store for me on Christmas day, also let me remind you about the great monthly promotion we have going on right now: have you been naughty or nice this year?