Gambling online is becoming a big deal, real big. The booming business of online casino gambling has been ever increasing in recent years, and sales of online casinos companies are continuing to see steady growth worldwide. Therefore it comes as no surprise that multiple new investors and online businesses are looking to hop on the fast train to online casino gambling mega-bucks.
Traditional casino gambling isn't hurting by any means either, in fact, the gambling industry is more popular today than ever. Even the biggest gambling destinations in the world, Las Vegas and Atlantic City, are seeing serious competition from European casinos and the continually developing Macau strip in South Asia.
If you're new to the world of gambling online, and specifically mobile gambling, then we suggest you read this article as a quick introduction. Once, you've familiarized yourself with gambling on the go, you should check out what CoolCat mobile casino has to offer; from exciting table games to incredible online slots and much, much more!
Online casino gambling
With the advent of faster internet and broadband connections, WiFi, and LTE, coupled with the advances in mobile technologies, it seems logical that the business of online casino gambling, and specifically mobile gambling, is on a meteoric upward rise.
According to experts, mobile gambling is seeing a remarkable increase in users. With as many as 64 million users in 2013, it is estimated that by 2018 as many as 164 million users worldwide will be using some form of mobile application for online gambling. The largest percentage of growth driving the market is North America. However, legislation revolving online and mobile gambling still presents some roadblocks for even more considerable growth in the U.S.
Online casino operators are anticipating a shift in the nature of their organizations by moving away from standard betting platforms to a more mobile-oriented focus. The aim is to achieve more than half of their online revenues from mobile devices within the coming few years. Worldwide revenues for online casinos are projected to $100 billion by the end of 2017. And the progression of mobile technology will only help to benefit this positive trend.
Casino mobile gambling technology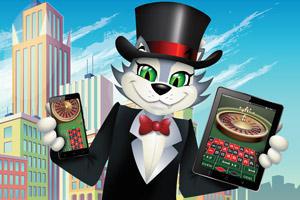 Without a doubt, the progress of mobile technology has become the driving force behind the increase in the mobile gambling market. Smartphones and tablets are becoming more advanced, cost-effective and easy to use, and are drastically changing the way we accomplish daily tasks. Innovations in mobile apps are simplifying everything from visiting the post office to grocery shopping, so it comes as no surprise that online gambling companies are capitalizing on the potential for opportunity.
Avid online players are beginning to see desktops as bulky and restrictive, and smartphones or tablets are simply easier to play on. Users agree that mobile devices allow for a more immersive and convenient gambling experience compared to PC or laptop, and gambling online technology is only improving for these devices. The user experience for in-play betting when watching a live sports matches, for instance, is not disrupted as frequently when compared to a PC. Or the availability of dual-screen options for tablets allows for enhanced gameplay on many casino games. Online casino software developers are continuing to create game versions optimized specifically for smartphones and tablets that run on the major mobile operating platforms; including iPhone, Android and Windows. Even the graphics and gameplay are rivaling established desktop versions, and allow for a better gambling experience.
The future of online gambling
Online casino operators are even offering personalized features such as free games and bonuses exclusive to mobile versions and new mobile users. These factors are largely increasing revenue for some of the most popular online gambling sites, and the benefits to the players are just as good! For a look at our bonuses, be sure to check out the link below!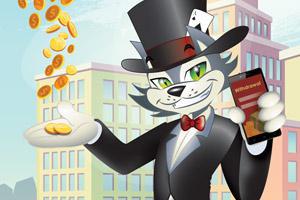 As the online casino boom is in its infancy, it's anyone's guess what the future of online gambling will hold. As physical mobile technology and internet speeds are only getting better, there seems to be no limit to what gambling online can accomplish. The various advances in mobile technology have allowed for more leisure time in people's lives, and with free time comes more time for online gambling.
It's hard to compete with the convenience offered by mobile gambling. Easy withdrawals and deposits can be made directly by the user on their mobile device(s), and users can sync their devices to experience casino gambling on more than just one platform. Especially when they're on the go. As software improves, the security improves. Players can rest assured that mobile gambling will continue pushing the boundaries of reliability and speed of delivering payouts. Considering the billions of dollars of revenue that revolves around online casino gambling each year, it's safe to say that gambling on the go here to stay.
Mobile gambling and what you need to know
Bring the action to your mobile device: online casinos and gaming software companies make it easy for players to experience online casino gambling on smartphones and tablets
Mobile gambling is a booming industry, new developments are being made each month, and revenues have been soaring since 2013
Secure payouts are made even quicker on mobile devices, as winning on a mobile device is more convenient than on standard and classic platforms
Users should only choose mobile casinos that offer games from well-established software companies, because these are certified to provide a fair gambling experience
Special bonuses and personalized features are attracting more players each week, and immersing oneself in the world of online casino and mobile gambling is becoming better as technology progresses
After all, what's easier than gambling online on your mobile device? Whether you're sitting at home, at work on your lunch break, or on a beach in Tahiti taking a spin at the slots; mobile casino gambling is the way to go. Be sure to make CoolCat mobile casino your first stop on your tablet or smartphone for a chance to win big on some of our most popular games; like poker, blackjack, baccarat and slots! Sign up with CoolCat Online Casino today for your chance to play for fun or win real money today!