With the recent re-release of the blockbuster movie, Jurassic Park, we were inspired to offer our members a month of Jurassic bonuses. Don't believe us? Well, we'll save you the trip to a small island inhabited by genetically engineered dinosaurs off the coast of Costa Rica and just tell you all about May's promotions from Cool Cat Casino.
Members' Only Bonuses
The first of this month's promotions is a 455% bonus that can be redeemed an unlimited amount of times to play anyone of our Keno and slots games. To take advantage of this monthly promotional bonus, deposit at least $40 and just type in the code: JJACKPOT455.
Our lowest, but not least monthly promotional bonus is a 200% bonus. This bonus can be redeemed an unlimited amount of times for play in our game rooms, except our Blackjack games. We know you're sad that you can't play Blackjack using this bonus, but you can play any of our other awesome games. To get your claws on this bonus, deposit at least $30 and enter the code: JJACKPOT200.
Our second largest monthly promotional bonus is for a whopping 610%. This bonus can be used for our Keno and slot games only, can be redeemed an unlimited amount of times, and only requires a deposit of at least $100. To snatch up this bonus, enter the code: JJACKPOT610.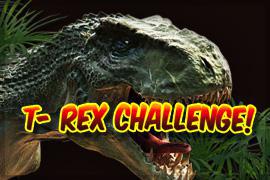 The T-Rex Challenge – A Big, Prehistoric Bonus!
This month's challenge bonus features a lot of sharp teeth and Cool Cat Casino cash! To sink your giant dino teeth into this challenge is deposit $30 and play our T-Rex slot machine game. You can win a chance to walk away with a FREE $10,000 CASINO CHIP.
This challenge also comes with a 180% bonus on the T-Rex slot machine. To get started enter the code: TREX180!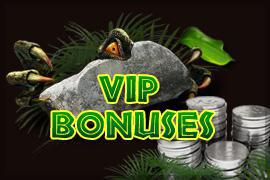 VIP Bonuses
Our 475% bonus is a tremendous bonus available to our VIP members who deposit more than $40 and enter the code: TYROVIP475. While this bonus is only good for use on our Keno and slots games, you can redeem this code an unlimited amount of times.
The 220% VIP bonus is small but deadly! To catch this bonus before it runs away, deposit $30 and enter the code: TYROVIP220. This bonus can be used on any of the games available through Cool Cat Casino BUT our Blackjack games. Deposit, redeem, enjoy!
Our last, but definitely not least monthly VIP bonus is a 630% bonus for play on any of our Keno or slots games. Our VIP members can redeem this bonus by depositing at least $100 and entering this code: TYROVIP630.
As always, be sure to visit our monthly promotions page to get more details on each bonus, and please play responsibly. Cool Cat Casino is where you go for the #1 online casino bonuses. Stop by and see why!