Halloween has passed and the days grow colder and shorter. Autumn is in full swing; its familiar crisp air teases the tree branches and sends the multicolored leaves dancing along the drafts of wind. It is almost time for the holidays! That autumn wind brings more than just a bunch of leaves to rake up off your lawns, though; it is bringing you all piles of free cash! CoolCat Casino is tossing up some cash into the wind; all you have to do is grab it. These kinds of gifts are truly something to be thankful for when you're around that giant turkey.
To start off the Thanksgiving celebration, CoolCat is offering this entire month of November three holiday cash bonuses. The first one is a 350% Slots & Keno bonus with No Playthrough and No Max Cash-out with a deposit of $50 or more. To add to the spread, there is the 560% Slots & Keno bonus with 30x Playthrough and 10x Max Cash-out with a deposit of $70 or more. Also, CoolCat is offering a 160% bonus on all allowed games with the tiny exception of Blackjack. This bonus has No Playthrough and No Max Cash-out with a deposit of $30 or more. All these bonuses can be redeemed unlimited times, so go ahead and go crazy! You can redeem any of these bonuses with the coupon codes on the CoolCat promotion page.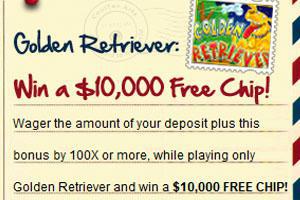 But those are not the only bonuses flying around this November at CoolCat Casino, not at all. Picture the classic autumn family moment of a fun little game of touch football with the family golden retriever romping and cavorting amongst the players jumping at the ball and on the dog piles. Now, picture that same energetic dog running off into the wood, digging around, and bringing you a sack full of money! Well, that might not be so farfetched here at CoolCat. Deposit $30 or more and redeem the Golden Retriever 330% bonus; wager the amount of your deposit plus this bonus 100 times or more on the Golden Retriever game, and win a $10,000 Free Chip!
And of course we have something extra special for our VIPs. There is nothing like a feast of free cash for Thanksgiving. If you are one of our valued VIPs, you can use the special VIP bonuses. We're offering 370% on Slots & Keno with No Playthrough or Max Cash-out by depositing $50 or more, 630% Slots & Keno with 30x Playthrough and 10x Max Cash-out by depositing $70 or more, and 230% Bonus on all allowed games except Blackjack with No Playthrough or Max Cash-out by depositing $30 or more. All of these are also redeemable unlimited times.
So if you do not feel like raking leaves this November, try raking in cash by the bags at CoolCat Casino. Remember, this promotion is only around for the month of November, so if you are too busy dealing with the elements, you will miss this great chance. Check out the CoolCat Casino promo page for more details. If you want to check your VIP status or if you want to become one to be able to take advantage of the outstanding VIP bonuses, feel free to call the live customer service line that is open 24/7 ready to help you with anything. So get out of the cold and get cozy while you win big at CoolCat Casino.