Casino M8trix hails itself as the premier entertainment destination in San Jose and Silicon Valley. The modern take on traditional casinos offers a collection of card games – including Texas Hold'em, Blackjack, Baccarat, and Three Card Poker – as well as the amenities you'd expect from an entertainment-themed casino. Although Casino M8trix was originally founded in 1946 under the name Garden City Casino, its legacy has come under fire in recent months following accusations of profit hiding.
On Monday, the gaudy gambling palace was pushed into even more turmoil when Eric Swallow, the man behind the casino, announced that he's selling his half of the lucrative casino business. One of Swallow's business partners, Pete Lunardi, is set to take over management of the towering Vegas-style cardroom in the coming weeks. According to a statement by Casino M8trix, Swallow hasn't been involved in the casino's operations since May of last year.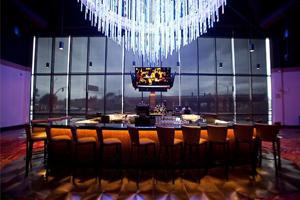 Monday's news was the culmination of an issue that's been gaining steam for months. Last year, Lunardis testified against Swallow in a case brought by the state Attorney General's office. According to the case, all three M8trix owners made efforts to hide profits in order to dodge city taxes and avoid making required contributions to a gambling addiction program. Lunardis was forced to pay more than $1.7 million in penalties as part of a settlement.
While Lunardis's case is settled, the identical case against Swallow is still pending. Swallow's hearings related to the charges recently concluded, and a decision is expected within 30 days. According to Swallow, Lunardis, along with wife Jeanine, "in essence, lie[d] to save themselves." With Swallow on his way out, Lunardis was vocal about his interest in buying the remaining half of the $60 million casino business, but Swallow has other plans. In a news release, Swallow stated that he's already located a third party to buy his shares.
Swallow has spent his fair share of time in the spotlight in recent years. He was recently at the center of litigation with the City of San Jose regarding an idea to allow gamers to play on the top floor of the M8trix tower, similar to exclusive high-rise, high-roller rooms in Las Vegas. San Jose suggested that it would be impossible to initiate surprise inspections after riding eight floors on an elevator. Swallow sued the city, but his plea was unsuccessful.
Following the sale, Casino M8trix will lose all association with the man who's credited with its reinvention following the bankruptcy of the Garden City Casino. Despite the history, Swallow insists that he isn't remorseful about walking away. Instead, he expressed a tone of excitement in ridding his life of the associated "red tape and issues that go along with such a large operation."
For fans of casino gaming in San Jose, the sale shouldn't have much of an impact on the continuity of Casino M8trix's ongoing operations. Pete Lunardi, the president of M8trix, will remain in his current position in addition to taking over management responsibilities, ensuring that the famous cardroom maintains its position atop the Northern California casino scene.