The leaves are falling, and the weather is getting cooler. The trick-or-treating is finished, and the holiday season is once again upon us. There's always something for which to be thankful, but CoolCat Casino is adding to this list this November with the Holiday Casino Cash promotion. No matter which type of game you prefer, this all-inclusive set of deals will put a smile on your face. If you're ready to get the holidays started with more fun than ever before, just take a look at these amazing offers.
Retrieving Big Winnings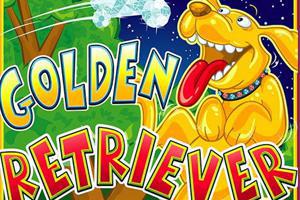 If you've never played Golden Retriever, get ready for an awesome new slot! We're offering a 330 percent bonus with no playthrough or max cash-out restrictions on any deposit of $30 or more. If you can successfully wager the amount of your deposit plus the bonus by 100 times or more while playing Golden Retriever, you'll win a free $10,000 casino chip. Now that's something to be thankful about!
Turkey Day Treats
Did you know that turkey has a chemical in it that makes you feel sleepy after eating? Well CoolCat Casino has just the thing to wake you up! For all of you slots and keno fans, you're sure to enjoy the no-rules 350 percent bonus, which can be used on any deposit of $50 or more. Feel like upping the ante? The 560 percent bonus, which features a 30 times playthrough restriction and a 10 times max cash-out limit, is available on any deposit of $70 or more. If slots and keno aren't your games, the 160 percent bonus should do the trick. Featuring no playthrough or cash-out restrictions, this special deal is available on all allowed games and can be yours with a deposit of $30 or more.
VIP Holiday Feast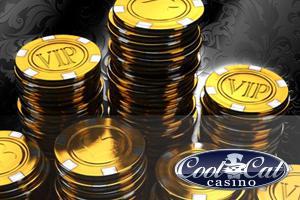 At CoolCat Casino, VIPs always get second helpings. While everyone else is filling up on turkey and stuffing, we're cooking up a holiday feast that you'll need to see to believe. Slots and keno players have a choice between a no-rules 370 percent bonus or a 630 percent offer with a 30 times playthrough restriction and a 10 times max cash-out limit. If you prefer a different game, we're guessing the no-rule 230 percent bonus, which is available on all games except blackjack, will be right up your alley. When the offers are this good, you really can't go wrong!
If you're having any trouble activating your offers, don't hesitate to contact our industry-leading customer support team. They're standing by to help you take advantage of the latest promotions, and they can also help you join the exclusive ranks of CoolCat VIP members. Simply navigate to the 'Contact Us' page of our website for more assistance.
Turkey Day is rapidly approaching, so give yourself a little more to be thankful about. With CoolCat Casino, this month's promotions are the perfect start to a month-long celebration. With a little luck, you'll be on your way to a huge win in no time, and that's the best way to get in the holiday spirit!