With 2014 dominated by headlines of Atlantic City casino closings, 2015 could shape up to be a landmark year if Hard Rock has its way. Florida's Seminole Indians, who own the Hard Rock brand, is thinking about bringing its A-game to Atlantic City.
The New Jersey Casino Control Commission is holding a meeting today (Thursday, January 29th) to consider approving the Seminole Indians to own a property.
This isn't the first time Hard Rock has expressed an interest. Back in 2011, they proposed a boutique-style casino hotel property. But they quickly scrapped those plans for reasons unknown.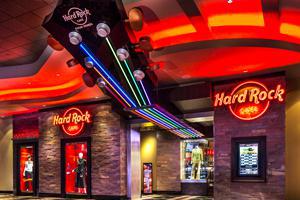 The current law actually states that licenses will only be granted for new construction, but now that there are four empty properties sitting on the boardwalk, the government is willing to entertain the idea of converting an existing structure into a new casino. Doing so would be more attractive to Hard Rock since they don't have to build from the ground up. Plus, all the bankrupt or closed properties are on the boardwalk, which is coveted real estate.
I've been to one Hard Rock Casino property in Punta Cana, Dominican Republic. To call it phenomenal is an understatement. They really go all out to make you feel like a rock star and the interior of the complex feels very Vegas-like, even though you're smack down in the middle of the Caribbean.
Bringing the Hard Rock brand would no doubt add an element of class and edge missing from Atlantic City casinos. The only high-end casino in Atlantic City worth playing at is Borgata, which is on par with the likes of Bellagio and Wynn in Las Vegas. It's not quite up there, but take a cab from Caesars Atlantic City to Borgata and you'll feel like you've moved from shopping at K-Mart to getting pampered with personal service at Nordstrom.
Don't get me wrong. The other casinos in Atlantic City are fabulous, including Resorts Casino, Tropicana, and even Harrah's. But they seem to cater to a more casual gambler whereas Borgata offers a level of sophistication you can't find elsewhere.
Personally, I think the Hard Rock would give Atlantic City a much-needed boost. But I'd hate to see it open if it means another casino has to close its doors.
We'll keep you posted on what transpires Thursday with the license approval, so stay locked to the CoolCat Casino blog for all the casino news as it happens.