Do you hear that sound? It's the high seas calling your name! Now is the time to begin a ghastly adventure through murky waters in search of riches beyond your wildest dreams with April's game of the month: Ghost Ship.
The game centers around the exploration of a haunted pirate ship loaded with abundant treasures. Beware before you enter the vessel, however, because the ghostly crew continues to jealously guard their plunder from beyond their watery graves. Ghost Ship features 25 awesome paylines and an opportunity to win as much as 25,000 times your bet on each line. Loaded with plenty of free spins and lucrative combinations, brave spirits are rewarded with the chance to take home piles of pirate treasure with each and every spin of the reels.
Playing Ghost Ship for the First Time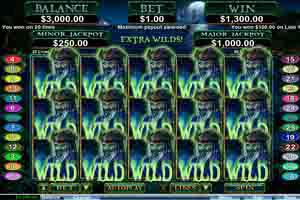 Playing Ghost Ship isn't just lucrative, it's fun! All you need to do to get started is choose a number of lines and a bet amount for each line. With that out of the way, you'll just need to hit the spin button and get ready for your first big win! Want a tip? Maximize your number of lines in order to ensure that you never miss out on a winning combination. When the reels stop spinning, keep a lookout for important symbols including the Ghost Captain and the Ghost Ship, as these can lead to significant opportunities to increase your bankroll.
Knowing the Symbols
So, what are these important symbols all about? First, you've got the Ghost Captain Wild. This special symbol serves as a substitute for nearly every other symbol in the game. If you want to win big, it never hurts to have a few captains onboard. Next, there's the Ghost Ship Scatter. This symbol leads to huge winnings by initiating the game's free spin feature. Three or more scatter symbols get the free games started, and rewards get even better when more scatters show up. You can't go wrong with free spins and big wins!
More about Ghost Ship
Ghost Ship is among the latest in a long line of outstanding games from the best provider in the business, Realtime Gaming. Available in both downloadable and instant play varieties, this slots adventure has the flexibility needed to satisfy your gaming appetite wherever you may be. If you fancy yourself an explorer or a risk-taker, you're going to enjoy the games thrilling storyline, and the opportunity for some great wins is just icing on the cake. If your fingers start getting tired from all the winnings, Ghost Ship has an awesome autoplay feature that's perfect for keeping the good times rolling without the need for constant attention from the player. All said, Ghost Ship is an exciting game with a haunting adventure that you're going to thoroughly enjoy playing.
Enough talking; every passing moment represents a chance for another adventure to grab a piece of your ghostly loot. It's time to put on your very best pirate costume and step aboard the Ghost Ship. Brave the high seas, and take your prize… if you dare!