Playing Baccarat online or off? Good call. It's one of the most entertaining and enjoyable table games. I like to think of it as a hybrid of Blackjack and Casino War. It's not quite as mindless as War, but there's not as much thinking required as Blackjack.
CoolCat Bonus Codes!
In fact the only decision you'll need to make in Baccarat is whether to play the Banker or the Player? Most people will tell you to bet the Banker — and for good reason.
Betting the Banker comes with slightly better odds. Why wouldn't you place a bet with less of a house edge? But there's one small caveat. The house takes a commission on each Banker win.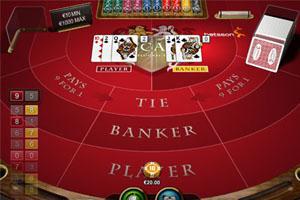 Still, that's no big deal because the fact that the odds of winning are better on the Banker means that you'll win more often, right? So most Baccarat tips include telling you to always bet the Banker. While this is good advice, it should be tossed out the window if you're using a betting strategy.
For example, with the Martingale system, you'd double your Baccarat bet after every loss until you hit a win. That works fine if you're betting the Player, but when you bet the Banker, your bankroll could end up all messed up and you won't win as much in the long run. Remember, the house takes a 5% commission on Banker wins.
Let's walk through it. Let's say you've got $400 to play with. You place a $10 bet. It loses, so here's what happens:
You bet $20. You lose that.
You bet $40. You lose that.
You bet $80. You lose that.
You've now blown through $150 of your $400 bankroll. You've got $250 left. But no worries. You're going to keep playing until you hit that win. So now you move on to your next bet:
Of the original $400 you sat down with, you're now in for $310. You've only got $90 left of your original $400 bankroll. Yikes.
But fortune comes your way. You win that bet. Your payout on that final bet was $152 because the house took $8. So now you're sitting with $312, plus the $90 of your original $400 bankroll.
So after all that, you're only up $2. Had you bet on the Player, you'd be up $10 and have more to work with. While $10 doesn't seem like a huge amount either, it's 5x your win rate and every bit counts.
Play for Real Money!
So there you have it. If you're using a betting system, bet on the Player. Betting on the Banker could end up being a complete waste of time.