You've seen players in action at the big tournaments in Las Vegas. You've watched big players go head to head for millions of dollars on TV. You've played with your buddies at home. Bottom line? You're into poker. But playing in a casino can be a little intimidating.
That's especially true if you've never gone head-to-head against a real person before. With the opportunity to make money by bluffing—or, worse, lose money to someone's bluff—poker can be a little scary.
If you're just starting out, we recommend video poker. In fact, even if you're a seasoned poker player, video poker offers you a good chance to hone your game and sharpen your mind. Not sure how the game works? We're laying it all on the table. Or should we say 'laying it all on the video poker screen'? Either way, have a read through our video poker guide and find out how easy it is to play—and win.
Playing the game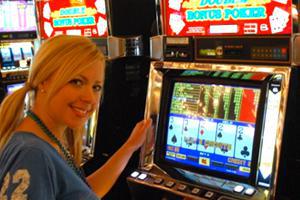 Video poker is a lot like regular poker in that your goal is to make the best possible poker hand using five cards. In video poker, you're dealt five cards, face up. Your job is to make the best possible hand. But here's the thing. You don't need to keep all your cards. You're free to draw up to five new ones, so if you don't like your hand at first, feel free to try and get better cards. You can only draw new cards once per game, so the new cards you get will be your final hand. And you don't have to replace all of them.
Feel free to swap one card, five cards, or anywhere in between.
Winning the game
Here's where it gets interesting. In live poker, you need to have the better hand against another player. In some table variations of poker, you need to have a better hand than the dealer. But in video poker, all you need to do is rank on the board. There's no dealer to face off against. As long as your card makes the board, you get paid out.
Making the board means that your card ranks on the poker hand ranking system. Now, in ordinary poker, the worst hand you can have is a high card. The second worst hand is a pair. In video poker, you need at least a pair to win. But not just any pair. At most games, you need at least a pair of Jacks to win. As long as you've got that, you'll get paid. The better your hand, the more money you'll win. At many popular video poker machines, you'll get paid up to 4,000 credits for a Royal Flush—and sometimes more.
Wild cards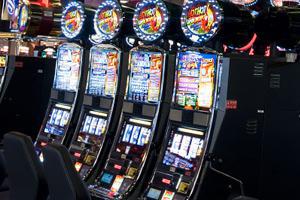 What makes various video poker machines interesting is the presence of wild cards. In some games, twos are wild. In other games, it's Jacks. The wild card varies from game to game, and so do the payouts and hand ranking system. Remember, with wild cards in play, it's possible to get a 5-of-a-kind—which never happens in live poker.
It's also possible to get a Royal Flush with wilds or a Royal Flush without. Different machines pay different amounts based on whether a hand contains wild cards.
The double or nothing round
Not every video poker game offers a double or nothing round, but it's common in about 50% of the games. Here's the deal. Video Poker is pretty easy to win at because you automatically win without having to actually beat the house. As long as your hand ranks, you get paid out.
The house wants to limit their losses, so they've devised a double or nothing round. If you decide to play, you'll lay down your winnings. You'll then get a high card and the dealer will get one too. Whoever has the higher card wins. If that's you, the dealer will match your winnings from the previous round. Some video poker machines let you play round after round after round, so you can keep doubling your rounds, all in one shot.
There's a lot to love about video poker—so much show that we could spend another 5,000 words going on and on about it. But who has time to read? Go ahead and hit one of the machines at CoolCat Casino. We've got loads of video poker games that you can play for free, so play now without risking anything.