If you haven't made it to Las Vegas yet, CoolCat Casino has you covered this August with an unbelievable set of bonus offers that'll get you up to speed on Nevada's most popular destination. Open the sunroof and put your hand in the air, because these are the offers you'll need to take your game straight to a high roller suite. Without further delay, let's get this tour of some of the best things that Sin City has to offer underway.
Headed to the Hotel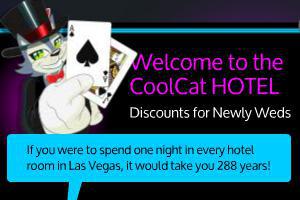 The bright lights of the Strip can be hypnotizing, but the first thing you'll want to do when you arrive in Sin City is check out your luxurious hotel. The CoolCat Hotel has all of the amenities, and the rates are the best in town. For every deposit of $30 or more, the hotel bonus is available to give you a 660% boost to your playing power for slots and keno. Don't forget to ask about the discount for newlyweds!
Our for Drinks
Now that the hotel is sorted, you'll want to take a trip to Happy Hour 3×1, where it's always five o'clock. For slots and keno fans, a 300% no-rules bonus will be just the thing to get your visit to Sin City off to a memorable start. Whenever you get the feeling, head on over. Happy hour is 24 hours a day, seven days a week at CoolCat Casino.
Tying the Knot
Get your hunka, hunka burning love by following the lead of thousands of daring couples and getting hitched in Sin City. As part of the festivities, CoolCat is offering a massive 500% wedding gift promotion that's available on all allowed games. Featuring a 30 times playthrough restriction and a 10 times max cash-out limit, this deal is most certainly cause for celebration.
Best Ink in Town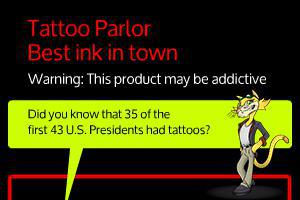 If you feel like commemorating the good times, head on over to the tattoo parlor. Within these walls, there are no-rules, but there's plenty of extra playing power for your casino experience. Take advantage of the 180% bonus offer, which is available on nearly every game that CoolCat has to offer.
The VIP Suite
If you're ready to experience the best of the best, you'll need to gain access to the exclusive VIP Suite. Once in this club, you'll have an opportunity to claim a 325% bonus on your next deposit of $30 or more, which is the perfect way to kick off an out-of-this-world time at the casino. There's no doubt about it; it's good to be a VIP!
For more information on becoming a VIP or activating your bonuses, head on over to the Contact Us page of our website. There, you'll be able to speak with our industry-leading customer support team and find out about all the great features CoolCat Casino has to offer. Whether you prefer slots, keno or some other game, this tour of Sin City is the perfect choice for amplifying your next trip to the casino. Hop in the limo, and let's get started!