It's beginning to look a lot like Christmas. Literally. Regardless of whether or not you've got snow on the driveway, the holidays are in the air and it's tough to not be in the Christmas spirit.
Trees adorned with lights. A chill in the air. People ice skating in downtown cores, assuming you're lucky enough to live in a climate that supports it. And if you're like everyone else who celebrates, your Christmas tree is all lit up and presents are about to escape the closet and find a new temporary home under the tree.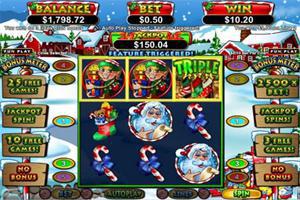 It's not just a fantastic time of year. It's Santastic! And that also happens to be the name of our Game of the Month.
If you love classic sots with modern graphics and all kinds of fund twists, you'll love Santastic. Instead of the 5 reels and 50 paylines you might be used to when playing many of our latest online slots, Santastic features just three reels and a total of 5 paylines. But even though the paylines are limited, the potential to win big is enormous.
First, there's a top award of 2,500x your bet per line. Considering you can bet $5 per line for a total of $25 per spin, the potential to win a lot of money in a single spin is enormous. Imagine the kind of money you could win to pay off all those Christmas gifts. Amazing!
But it doesn't end there. You also earn double or triple prizes by landing on a Double or Triple symbol during a regular game. Plus, there's a jackpot that can take your bankroll to new heights.
If you hit any 3-of-a-kind victory, you'll get to play a Festive Feature game. As soon as you're in it, an online Bonus Meter will hand you one of three different Jackpot Spins, up to 25 free games, or that coveted 2500x your bet per line award we talked about earlier.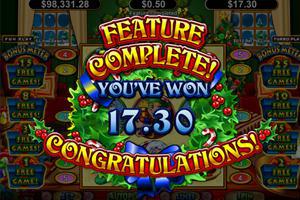 While there are many rewarding aspects to Santastic, it's extra fun this time of year because of the theme. Santastic celebrates Christmas in amazing ways through symbols that spread Christmas cheer. There are teddy bears, snowmen, candy canes, cakes, and all things Christmas-y. In the background, you'll find jolly North Pole scene, which means it's a white Christmas wherever you are, even if you're playing from Miami.
To get started with our Game of the Month, all you need is a CoolCat Casino account. We can get you set up with one in a flash (it literally takes a minute) and as soon as you've got your username and password, you can start playing Santastic on any Windows PC through the downloadable software or on your Mac through Instant Play (the Instant Play version works on your PC too).
Santastic isn't yet available on the go, but you'll find lots of other Christmas-theme games ready to play on your smartphone or tablet. One of the most popular titles is Naughty or Nice, an online slot game that features two of Santa's most seductive helpers. You really need to take everything you know about elves and toss them out the window. There's also Rudolph's Revenge and The Naughty List. And of course, on our desktop software, you'll find even more titles like Naughty or Nice Spring Break, Santa Strikes Back, and Return of the Rudolph.
It gets better. With your free CoolCat Casino account, you can access all these games for free. That means if you spent all your hard-earned money on gifts for friends and family, don't sweat it. You can have a Santastic Christmas no matter what.