Are you familiar with the classic Rapunzel story? The fairytale about the girl in the castle with the long hair? If so, you're going to love our Game of the Month. It's called Roberta's Castle and it'll leave you feeling like a princess or the knight in shining armor who rescues her in no time.
This 20-payline game has quickly become a favorite of CoolCat Casino players since its introduction to the site several years ago. And it's clear why. The game is packed with all kinds of rewarding symbols.
The Prince is the wild symbol in the game. It can sub in for all other symbols in the game to help you complete a winning line and win big (the only symbol it can't sub in for is Roberta's Castle, though, so keep that in mind). Each time you land on the Prince symbol in a winning combo, you'll also earn double prizes.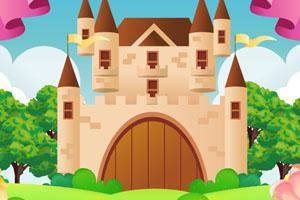 Now about those Roberta's Castle symbols. You'll love these because if you land on three or more of them, you'll get to play 15 free games where all prizes are tripled. If you're new to free games at CoolCat Casinos, they're just like regular games where you can win real money. The only difference is that you don't actually have to risk anything. When you enter free game mode, your balance will be locked tight and we'll use our money to spin for you. That means if you lose, you'll lose our money. And if you win, the money is yours.
Roberta's Castle also comes with a progressive jackpot that can pop any time upon the conclusion of a game, so don't be upset if you don't hit the symbols you want right away because you could end up hitting the big one!
One more thing before we let you get down to playing. Roberta's Castle is a 20-variable payline. That means you can play 1 line, 20 lines, or anywhere in between. You might be tempted to play just one line if you're trying to conserve your bankroll. But that's not necessarily the right approach. We want you to win playing the Game of the Month, so instead of lowering the lines in play, lower your bet per line instead. This way, you won't miss out on a winning opportunity if your symbols show up on a payline.
If you love fairytale or storybook-themed slots, we've got a lot of them worth playing at CoolCat Casino. Wooden Boy is a great option for fans of the classic tale Pinocchio. Mermaid Queen will leave Little Mermaid fans singing 'Under the Sea'. And Aladdin's Wishes will leave you wanting to rub a genie lamp all day long.
You can get access to Roberta's Castle and all of our online slots games by downloading the free CoolCat Casino software and creating your account (also free). You don't even need to make a deposit to play. In fact, we encourage you to take the slots game for a spin using pretend money. Doing so will give you a feel for the software and games, so you know what you're getting into before you play. So what are you waiting for? Let down your hair and play Roberta's Castle!