Have you ever noticed the paw-waving kitties so commonly adorning Asian restaurants and markets around the globe? These little guys are referred to as maneki-neko, or fortune cats if your Japanese is a little rusty. In addition to being cute as a button, these feline friends have a great deal of meaning behind them. For example, if the left paw is raised, the cat is meant to attract customers. However, we're a bit more interested in the other paw. A raised right paw is said to invite money and good fortune, which is exactly what you'll be after when playing September's game of the month: Operation M.Y.O.W.
If you're not into abbreviations, you'll want to refer to this game as Make Your Own Win, and it won't take long after you begin play to understand why it's earned that moniker. Unlike traditional slot machines, this game allows you to choose between five unique and potentially lucrative pay tables in order to customize your experience. Whether you go for Bat Cat, Kung Fu Kitty, Catzilla, The King or Lucky Cat, you're sure to enjoy the diverse payout rates this slot has to offer. Looking for a tip? Go for the Catzilla pay table! It offers the highest payout rates, giving you the best chance of laying claim to some big time winnings.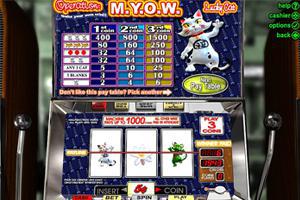 While the pay table selection may make this game seem like a brand new type of slot, traditionalists will be happy to know that the classic three reel design is a worthwhile homage to the glorious history of slot machines. You won't find tons of complicated paylines with this title. Instead, Operation M.Y.O.W. features a single pay line and 35 different winning combinations.
The most lucrative play strategy we've found for this slot is the three coin strategy, which is fundamental for claiming the most prizes possible. If you want a chance at winning the big 5,000 coin prize, you'll need to bet three coins and land three images of the infamous Catzilla on the game's single pay line. Can you imagine landing the winning combination and missing out on your big payday because you didn't bet three coins? That's a quick way to ruin a fun time!
Since Operation M.Y.O.W. was developed by the professionals at Real Time Gaming, you can rest assured that your gaming experience will be second-to-none. Featuring a timeless slot design and a charming theme complete with visually-appealing illustrations, this slot machine has everything you'll need to put your luck to the test.
Get your September off to a great start by checking out the CoolCat Casino game of the month. With a proven formula that harkens back to a simpler time in the evolution of slots, Operation M.Y.O.W. is sure to please any fan of slot machine history. The opportunity to choose your own pay table is just the special twist needed to make this game truly one-of-a-kind. Give the fortune cat a quick wave, and reap the benefits all month long at CoolCat Casino.