As you step out of the limo, the first thing you hear is the crowd screaming your name… In the best designer fashion, you walk the red carpet while the paparazzi snap a million photos of you and all the celebrity reporters are dying to talk to you. You are the talk of the town, a bona fide star and they know it! Get ready for your close up because your time to shine has come this August with our game of the month, Big Shot!
The game is a 5-reel production inspired by the luxuries and thrills of life in Tinsel town. As a Hollywood heavyweight, you have all the power to call all the shots in the game. Therefore, you can choose how many lines you want to play and the amount of money you want to play per line. You can choose to play 1 line or 20 of them. The difference is that the more lines you play, the more opportunity you have of scoring symbol combinations that can trigger multipliers and free bonus rounds. After all, actors have to take risks to get those golden statues!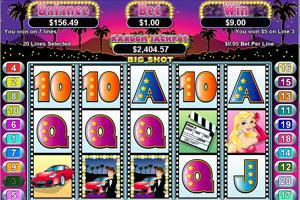 Glamorous and exciting, the bonus rounds in Big Shot are truly designed to satisfy the high end demands of any superstar. When the Big Shot symbol appears on reels 1 and 5, you are on your way to free spins and mega stardom! The moment you hit a bonus round, you can get up to 20 free games that have extravagant 20x multipliers, taking you from newcomer to luminary faster than the director can hit that clapperboard! Keep in mind that the maximum win per line is 50,000 times your bet on any given spin, so couple that with the multipliers, and it seems that your mansion in the Hollywood Hills is only a spin away!
Just like in the movies, rags to riches stories are always a crowd favorite. Inspired by it, Big Shot has a progressive jackpot feature incorporated into it! Due to our guaranteed random system, you might be the lucky winner of the accumulative jackpot and instant fame at the end of any standard spin! Be prepared to see your name in all of the magazines and marquees in town!
With this deluxe show-stopper, Cool Cat casino redefines the meaning of Hollywood glamour with its glitzy graphics and vibrant play. Plus, since celebrities always get tons of freebies, this game also treats you to many free games and even a progressive jackpot! You will be thanking the Academy of Cool Cat Casino for all of your cash prizes in the next award show for sure!