Ever play space invaders, the classic 1970s arcade game that hasn't lost its charm? Then you're going to love April's Monthly Promotion at CoolCat Casino because it's truly out of this world.
The Extraterrestrial Bonus Cash game invites you to fire your way to big payouts as you play the part of aliens invading earth. Here's how it all goes down.
When you play our Monthly Promotion, you'll find yourself at an Alien Command Center where you'll see live video feed of planet earth, plus four buttons that lead to different countries and various landmarks. There's the Eiffel Tower in France, the pyramids in Egypt, Mount Rushmore in the United States, and the Coliseum in Italy.
First, choose the country that you want to zoom in on. When you do, the video feed will zoom in on the landmark in that country.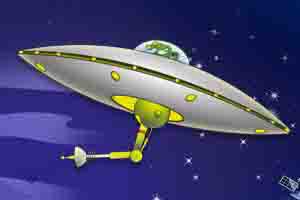 When the landmark is locked on target, all you need to do is press the "Fire" button and sit back. Depending on how successful you are at destroying the target (don't worry, it's just pretend), you'll receive a bonus that could be worth hundreds of dollars in match play.
Just use the bonus code when you deposit and you'll be all set. As you meet the playthrough requirements, the bonus will be released to your account.
A $10,000 Free Chip can be yours
Thing this Monthly Promotion bonus game is out of this world? Wait until you see the $10,000 free chip waiting for you. It's yours when you deposit using another special bonus code and play the hit slots game Out of this World.
There are some terms and conditions you should know about before playing the Monthly Promotion game and taking advantage of the various bonuses and vying for that $10,000 free chip.
Remember, this Monthly Promotion is valid all April long, but it goes away on May 1st, so get into your spaceship and don't miss out.