In September, get ready to eat a lot of frosting and get tons of bow-wrapped boxes! This month at CoolCat Casino, it is all about birthdays! These are not regular birthdays though; they are the cream of the crop of Tinsel Town! Prepare yourself to spend every day at a different party with a different Hollywood star! Relax, do not worry about bringing any presents, because with this extra special monthly promotion, all the gifts are for you!
That is right, during the month of September we have 30 superstar birthdays and 30 different bonuses for you to take advantage from! Surely, these bonuses are going to keep your calendar busy every day, because they change every day. While some of these bonuses are good for all of the month of September, some of them are only available for a specific day, so you need to be on your toes and check our celebrity calendar every day! To give you a little taste of the birthday cake, let me show you some of the cool bonuses you can find!

September 4th: Beyoncé wants to cater to you!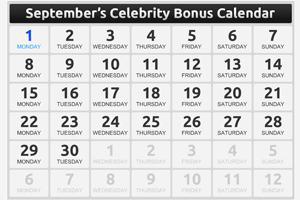 Hey Miss Carter! The one and only Queen B wants to celebrate her birthday dancing all night in her freakum dress! She rules the world and she has decided to throw all the rules out the window while you to come along for the ride! That is why she is giving you a 360% No Rules Bonus for Slots and Keno! Throw the cares away and hit the dance floor with no playthrough and no maximum cash out, just deposit $50 and feel crazy in love with this super coupon! Since Beyoncé is an independent spontaneous woman that likes to takes chances, this bonus is only available on the fourth of September! Go get it!

September 9th: Adam Sandler will bring you laughs and many chances to win!
Happy Gilmore himself is turning 48! Adam Sandler always knows the way to makes us laugh, but he is no stranger to partying either! So he has decided to celebrate his birthday with you and show you a good ol' buddy time! On his special day, he has decided to take you to the casino and give you 20 FREE spins on his favorite slot machine, Builder Beaver! He might not take you on 50 first dates, but these spins are worth $50 free! You can do it, show those slots who's boss!

Let Jimmy Fallon be your party host on September 19!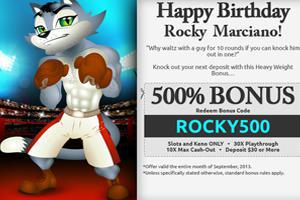 SNL alum and Tonight Show Host Jimmy Fallon knows a thing or two about entertaining and making you feel at home, that is why he has decided to give you a fantastic 600% bonus for Slots and Keno! Since he is such a hard worker, doing interviews day in and day out, Mr. Fallon has made sure that this bonus lasts you for the whole month, so you also have the opportunity to play hard and win big! Jimmy's bonus is yours with a $100 deposit and the coupon features a 30x playthrough and a 10X max Cash Out! Seems to me, Fallon's birthday is about to start another of his famous twitter trends: #bestslotpromotionever!
And these juicy coupons are only three of the 30 BONUSES we have prepared for you this September! We have more free chips, promos for All Allowed games, you name it! Visit our promotion page at CoolCat Casino and spend all the time you want perusing every single day of our birthday celebrity calendar and find out what celebrities like Keanu Reeves, Gwyneth Paltrow, Michael Keaton, and Bill Murphy have in store for you! Go and get the codes and all the free birthday money now!