Love playing the lottery? This story will have you scratching your head, particularly if you play those scratch lottery tickets. A man in New Mexico scratched off a lottery ticket and thought he scored $500,000 by matching the right symbols. But when he went to cash the ticket, he was told that the ticket had a misprint and that he didn't actually win.
John Wines shelled out the $20 charge to purchase a Ruby 7's scratch ticket early last month. When he finished scratching, the ticket revealed four prizes. There were a pair of $250,000 symbols and a pair of $75 symbols. He thought he won over $500k.
Essentially, Wines' winning numbers were 1 and 2. If those numbers appeared above a prize, Wine would win that prize. When Wines scratched off the ticket, the number 1 appeared above both 6-figure prizes.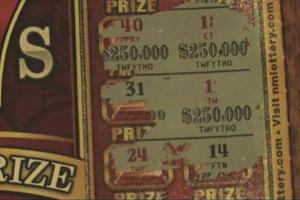 The ticket, however, is also equipped with an abbreviation code that corresponds to the matching numbers. The codes said that one was supposed to be a 12 and the other one was supposed to be an 18. Instead, the second digit in each case was replaced by a tiny smudge.
The issue with the misprint seems to be a printing error. The lottery thought they pulled all of the misprinted tickets, but it turns out a few tickets made it into the system, meaning we could be hearing a similar tale very soon.
A quick look at the back of the ticket reveals the following:
"NMLA is not responsible for lost, stolen or misdirected tickets. Liability for void, altered or misprinted tickets or disputes, if any, is limited to the refund of the retail sales price."
And with that, the New Mexico lottery officials offered to repay the $20 ticket charge, plus additional money totaling $100. Needless to say, Wines isn't happy with that.
If you love playing scratch ticket games, let this be a lesson that this could happen to anyone, anywhere. Unless of course you play online. CoolCat Casino has a nice collection of virtual scratch games, including Magic 7s and Five Diamond Blackjack. Go ahead and discover one of the biggest collections of scratch tickets and specialty games now. You might just find there's no reason to play traditional scratch games ever again.