The way we see it, everybody's got their favorite games. We're talking about that fallback slot that you go to whenever you're in the mood for a top quality time without any confusion. Sometimes, though, you may be feeling a bit more adventurous. It's in these moments that a trip into the expansive CoolCat Casino games library is in order. We're always adding new games, solidifying our position as the best in the industry, so it can be tough to decide where to start when looking for a new game to play. We may be a little biased, but there are no bad choices! If you're still feeling indecisive, you've come to the right place! The game of the month program is specially designed to introduce intrepid gamers to some of the best games the industry has to offer. This month, we've picked one of our newest additions, and we think you're going to love it!
God of Wealth is a beautiful video slot featuring 25 exciting paylines and plenty of graphics that will make you feel like you've been transported to Ancient China. Whether you're a fan of Confucian times or simply looking to give your bankroll a boost, this game is a great addition to your weekly rotation. Right about now, the clouds are parting, and the sun is preparing to shine just a little bit brighter for you. Cash in on your fortune, and enjoy the many blessings offered by God of Wealth.
Things to Expect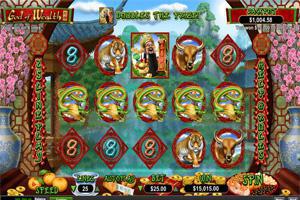 Beautiful graphics are always a plus, and God of Wealth's Chinese Zodiac-themed icons are certainly visually-appealing. When it comes down to it, though, the best slots offer more than just a pretty face. God of Wealth is an extremely rewarding online slot that offers a number of advantages to players. For example, the top award in this game is an incredible 10,000 times your bet per line. When you consider that you'll have the option to play up to 25 paylines on each and every spin, the possibilities for huge wins are practically limitless! If that's not enough to get your blood pumping, this slot also features a progressive jackpot that can be awarded randomly at the conclusion of any game, as well as a free games round that can net you dozens of free spins to pad your winnings.
Getting Started
Like all of the games at CoolCat Casino, God of Wealth's exciting benefits never get in the way of a simple, intuitive play experience. That's right! You can put the prayer book down, because you don't need to study much to catch a blessing or two from this slot game. After loading the game in your browser or the CoolCat Casino software, just use the arrow controls to set your wager and number of paylines. When you're satisfied, just click spin to get those reels spinning. When the spinning stops, you'll be paid for any matching symbols, but there's more to keep an eye out for than instant wins. Land three Gold Ingot scatter symbols to rocket your play into the free games bonus round. Each Gold Ingot will reveal up to 10 free games, so things can definitely get interesting!
Developing a Strategy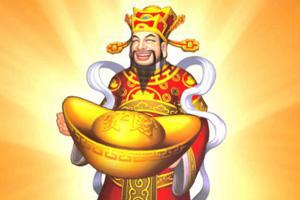 Online slots are great because they can be played at whatever pace you prefer. Spin the reels once before taking a two minute break, or speed up the action by activating the Autoplay feature. When Autoplay is enabled, the reels won't stop until you tell them you're done. This is a great way to kick back and relax without missing out on anything God of Wealth has to offer. Now, it goes without saying that winning at online slots always requires a bit of luck. You can thank the dreaded random number generator for that. Still, there are ways to make the most of any luck you may have.
If you're new to slots, we recommend evaluating your bankroll to decide how much you can afford to wager per spin. When you've got a total, you may be inclined to increase your bet per line while reducing the number of paylines you play, but we suggest doing just the opposite. God of Wealth offers 25 paylines, and the top award is based upon how many of these lines are active on a spin. When you play more lines, you'll have a chance to win more cash per spin. To put it simply, more paylines means more chances to win per spin, and that's never a bad thing.
Time to Play
There comes a time when everything that needs to be said about a game has already been said. Despite this fact, the article keeps going. This is that time. If you're intrigued by the play experience that God of Wealth has to offer, now's a great time to head over to the game's page and take it for a test drive. If you enjoy the game, you could find yourself with a new game to add to your weekly rotation. If not, there's always plenty of other options to try moving forward. The game of the month program is CoolCat Casino's way of helping you cut through the expansive forest of great games in order to find a few of the hidden gems growing within. God of Wealth is like a trip to Ancient China, but it doesn't sacrifice on great, modern features and graphics.
If you've got any additional questions regarding God of Wealth or CoolCat Casino, simply navigate to the 'Contact Us' page of this website to communicate with our industry-leading customer service team. They're available 24/7 to address any concerns, and you'll have a variety of communication options to meet your specific needs. If you're still reading, congratulations! Your diligence and commitment is second-to-none. Enjoy God of Wealth, and we'll see you again next month for another edition of the Game of the Month. As always, have a great time, and play responsibly. With a little luck, you'll be padding your bankroll in no time flat.