Travel to any major sporting event in the world and you'll find athletes staying at hotels. If it's the Olympics, security is a big deal. Even now, as the San Antonio Spurs try to end the Miami Heat's championship win streak, security at the hotels in each city will be tight.
But when it comes to playing poker, that's not the case. As thousands of people descend on the Rio in Las Vegas for the 2014 World Series of Poker, questions about whether the Rio is doing enough to protect players are being raised (I'm the one raising the question, but I'm sure a lot of people agree with me).
Several players reported last week that they had personal items stolen from their hotel rooms, including laptop computers and cash. One pro had $35,000 swiped from his room. That's a lot of cash to not keep in a safe, but hindsight is 20/20.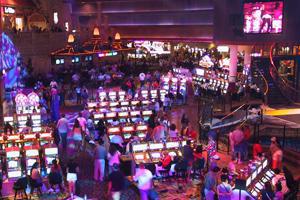 The WSOP attracts thousands of poker players for around 6 weeks, from May through July. While the Main Event is a player-magnet, with upwards of 7,000 people entering the $10,000 tournament, the series features dozens of other events with both smaller and larger buy-ins. That means that for well over a month, there are countless players staying at the Rio with tens of thousands in cash. Remember, the days of winning a WSOP seat through an online poker site are pretty much over.
In the past, you could log in to your favorite poker site like Stars, UB, or Full Tilt and win a seat. The sites would take care of your buy-in. All you had to do was show up and register. But even before Stars pulled out of the US (and before Tilt and UB were taken down by the feds) the sites opted to pay players who won a Main Event seat the $10,000 they needed to buy into the event. Las Vegas hotels are pretty famous for their security on the casino floor, but the latest series of room break-ins proves that they're not doing enough in the towers to keep players safe.
And it's not just the Rio that has to worry about security. Thousands of players choose to stay at other Las Vegas hotels while in Sin City for the World Series of Poker. Hopefully those hotels have strengthened their security.
Are you in Vegas for the World Series of Poker? Tweet us and let us know what the security is like. We know that many of our players who enjoy video poker at CoolCat also enjoy live poker, so stay safe.