Cocktail waitress downstairs. Nurses upstairs. Blackjack on the casino floor. Blood analysis just an elevator ride away. Welcome to the new Revel Casino as envisioned by its new owner Glenn Straub.
The real estate mogul purchased the Revel for $82 million back in April and he has big plans to change the way it does business.
Before we get into what the future Revel looks like, it's important to understand what it once was. Built just a few years ago to the tune of $2.4 billion, the one-time jewel of Atlantic City closed its doors in 2014 after staring bankruptcy in the face. Revel was one of a few Atlantic City casinos to close its doors, but while most were victims of a changing market, Revel's demise was arguably its own making.
The casino was smoke-free, shutting out a good chunk of the gambling market right from the get go. Its layout was also poorly executed. You couldn't make your way into it easily from the boardwalk. And once inside, it took forever to find your way to the casino floor (you had to take a bunch of escalators and there was barely any signage to point you in the right direction).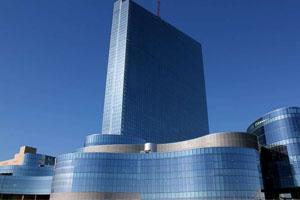 Many argued that whoever takes over Revel would have to do some serious renovations to make it more pedestrian-friendly. But Glenn Straub might be doing something with the new property that makes the casino an afterthought.
Straub wants to make the new Revel (or whatever it might be called) a destination that goes way beyond gambling. His vision includes a futuristic medical facility where you can extend your life. Or so he claims.
In an interview with a major news publication, when talking about his new venture, Glenn said, "I'll extend your quality of life by an extra 20 years, guaranteed. If we don't extend your life and you don't feel more comfortable, don't pay."
So what kind of treatments are we talking about? Hormone replacement therapy. Cryotherapy. Nutrient IV therapy. Blood analysis. Genetic medicine. These aren't necessarily treatments offered by hospitals. But they are treatments that some Hollywood celebrities swear by.
And that could once again make Atlantic City a thriving destination. The people who would seek out these types of treatments are the very rich. And the very rich have money to spend on gambling.
Perhaps it's not just patients that will feel 20 years younger thanks to Glenn Straub. Maybe, just maybe, Atlantic City will be rejuvenated and restored back to its glory days.
Whatever happens, this is an interesting development on the Atlantic City boardwalk and we'll definitely keep you posted as the story develops. No word yet on what type of futuristic gambling Glenn Straub will bring to Atlantic City. We'd like to suggest laptops and tablet with CoolCat Casino in place of dealers.