Can you actually win big playing daily fantasy sports? The TV commercials will have you believe so. Young guys in their twenties holding giant novelty checks with amounts in the millions. If they can do it, why not you?
I'll tell you why. Fantasy sports betting is a fantasy and nothing else. Yes, people win big, but to believe that you're better off betting on fantasy sports than you are playing poker or casino games is foolish. And here's why.
The fantasy sports economy is made up of three types of players — Minnow, Big Fish, and Sharks. This is a lot like poker. You have your fish, who generally don't know what they're doing, and your sharks, who eat the fish.
In fantasy sports, you've got big fish and minnows feeding the site, and the sharks getting the bulk of the profits (some goes to the site for hosting). But in fantasy sports, sharks make up just 1.3% of the total players, while paying 40% of the entry fees. And 17% of those entry fees come from the top 11 or so players. The remaining 60% comes from minnows and big fish.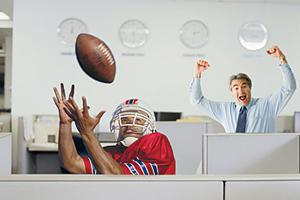 In a nuthshell, there is a perception that people all over America are dropping down a few bucks and turning it into a 6-figure score, but in reality it is the same group of players profiting over and over again from the fish.
If you're not an expert on every inch of sports, including player history and day to day prospects, chances are you won't succeed at daily fantasy sports.
On the flipside, it's much easier to take $100 and turn it into a few hundred dollars at the Blackjack tables in a matter of minutes. And you can do so regardless of whether or not you're great at playing Blackjack.
The debate is an interesting one, but we're getting ahead of ourselves here. Fantasy sports isn't gambling, at least according to the United States government. Although you're betting on the outcome of certain sporting situations and wagering on the success of individual players, the government doesn't classify fantasy sports as actual gambling. Anyone with half a brain can see that it is gambling, but the current law says it's not.
That could very well change soon after a recent scandal hit fantasy sports betting sites. It turns out an employee might have used inside information to profit from leaked data. While the data was allegedly used on a competing site, it does call into question whether sports fantasy betting is fair.
As much as I like betting on sports with my friends, I can't get into fantasy sports betting. I'd much rather bet on the outcome of a game between friends than take part in a daily or weekly league that might only serves to help the top 11% profit.
What do you think? Is the fantasy sports model being honest with players about their probability of winning? Or is it pretty much like poker or any other form of gambling? Sound off with a comment. We'd love to hear your thoughts.